How to Paint Cheap Furniture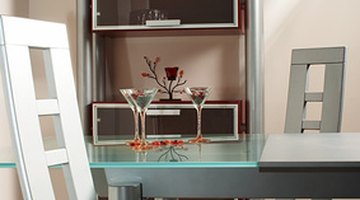 Things You Will Need
Fine-grit sandpaper
Sanding block
Damp cloth
Oil-based primer
Paint trays
Paint roller
Paintbrush
Latex paint
Cheap furniture can look, well, cheap. Often, inexpensive furniture is made from veneer and low-cost building materials. Adding paint to cheap furniture will help it to look classy without spending a lot of money on new furniture. Although painting cheap furniture is similar to painting any other type of furniture, there are a few extra things that you need to do before you can paint cheap furniture.
Check the furniture to make sure it is sturdy, and repair as needed. Cheap furniture is not usually built as well as more expensive furniture. In addition, older furniture purchased cheaply may also be a little unsteady and in need of repairs. Take the time to sure up any areas that might need extra help.

Check the furniture to determine if you are dealing with a veneered pieced of furniture or a solid wood piece. Open the drawers of the furniture, or look at the back of the piece. Veneered furniture will have a thin layer of veneer over a plywood or MDF board base.

Lightly sand the furniture with fine-grit sandpaper. Sand solid wood pieces until the finish is mostly gone from the cheap furniture. Some types of cheap veneer furniture will have a plastic-like veneer. If this sounds like your furniture, just sand the veneer until the glossy finish is gone. Wipe the entire piece with a damp cloth to remove the dust.

Pour a small amount of oil-based primer into a paint tray. Use a paint roller to roll the primer onto the sanded piece of furniture. One light coat of primer should be enough to help the paint to stick and prevent stains from showing through the paint. Use a paintbrush to prime the hard to reach spaces of the furniture. Wait several hours or until the primer is dry before painting.

Pour the latex paint into a paint tray. Roll the paint roller into the paint, and begin painting the piece of furniture. Roll the paint onto the furniture in a thin layer. Wait for the paint to dry, and apply a second coat of latex paint. Once the paint is dry, wait 48 hours before using the piece of furniture.
Check out this related video.
References
Writer Bio
Cadence Johansen is a freelance writer who enjoys writing about travel, marriage, family relationships, caregiver support, home improvement and money. Johansen has been writing professionally since 2008. She holds a master's degree in family studies from Utah State University.
Photo Credits
modern furniture image by terex from Fotolia.com
modern furniture image by terex from Fotolia.com
More Articles