How to Repair Knockdown Texture Paint Ceiling Cracks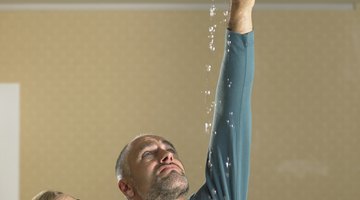 Numerous homes have textured ceilings; the texture hides flaws in the surface of the ceiling, enhances the room's acoustics and creates an interesting look that many people like. Knockdown texture gets its name from the technique, which involves lightly dragging a drywall knife over the stiff peaks formed by the texturing compound to knock them down and flatten them slightly. The technique is easy to do, but texture makes ceiling repairs challenging when cracks appear. You have to practice matching the exact pattern to blend the texture and make an efficient repair.
Step 1
Practice applying the texture on a piece of scrap drywall or cardboard to ensure you get the closest match you can for the ceiling texture pattern.
Step 2
Lay down plastic sheeting in the area under the crack. Tape it to furniture or the walls to keep it in place.
Step 3
Remove the texture in the area around the crack using a putty knife. Clear the area for at least 3 inches on all sides of the crack.
Step 4
Fill the crack with either a paintable caulk or a thin layer of drywall compound.
Step 5
Sand the area as needed once the caulk or compound has dried. The area doesn't need to be completely smooth, but there shouldn't be noticeable ridges or lumps.
Step 6
Paint a coat of primer over the repaired crack and the surrounding area.
Step 7
Spray the texture into the space you cleared and repaired. Do not fill the space completely. The texture will spread once you have knocked it down, so you should leave a slight gap around the repair.
Step 8
Wait for the texture to start to dry but do not let it harden. The time will vary according to the brand of texturing spray, but it will typically be about 10 to 15 minutes.
Step 9
Knock down the texture by dragging a drywall knife across the peaks before the texture dries completely, slightly flattening them.
Step 10
Paint the repaired area to match the ceiling, if necessary.
Warning
Do not overspray the texture. Too much spray will spread out and create clumpy areas.
Warning
If your house was built before 1979, your ceiling texture may contain dangerous asbestos. Send away a sample of the texture for testing before you do any work on the ceiling.
Things You Will Need
Scrap drywall or cardboard
Putty knife
Drywall compound or caulk
Primer
Texturing spray
Drywall knife
Plastic sheeting
Painter's tape or masking tape
References
Writer Bio
Maria Magher has been working as a professional writer since 2001. She has worked as an ESL teacher, a freshman composition teacher and an education reporter, writing for regional newspapers and online publications. She has written about parenting for Pampers and other websites. She has a Master's degree in English and creative writing.
Photo Credits
Michael Blann/Digital Vision/Getty Images
Michael Blann/Digital Vision/Getty Images
More Articles