Form or Function?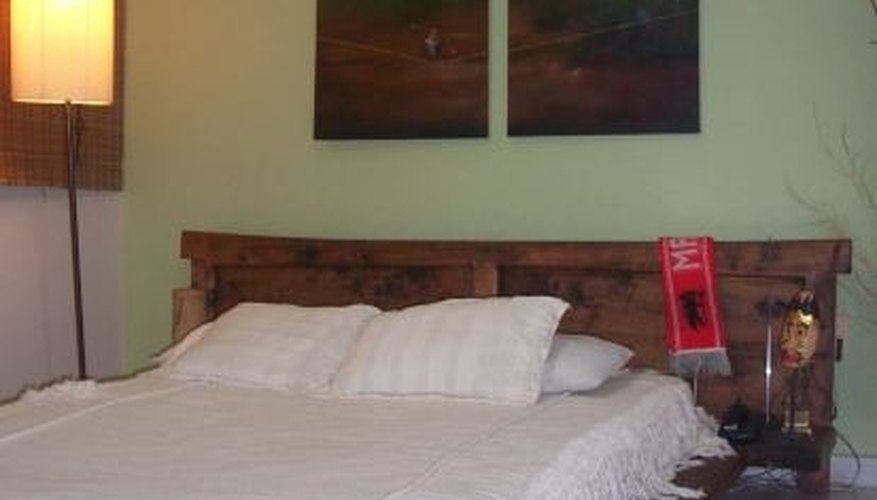 As such, it should be decorated to reflect the style of your room. Bedroom furniture can be expensive, and a designer headboard or bed frame is out-of-reach for some budgets. Fortunately, there are many ways to create a headboard with very little investment.
In most cases, the head of a bed sits flush against a wall. Therefore, your headboard does not need to be functional. Your bed frame holds your mattress in place, so the headboard only needs to make your room look good.
Versatile Frame
Create a frame for your headboard using two-by-fours. Your headboard should be at least the width of your bed, or a few inches wider. Its height is really up to you. If you have high ceilings, create a headboard that's taller to have more of an impact. Your frame can be designed to hang on the wall, or you can add legs if you would like it to sit on the floor.
Decorate Your Frame
There's no limit to your choices when it comes to decorating your frame. The simplest approach is to cover your open frame with a fabric and affix the fabric on the back with a staple gun. However, you would not be able to lean against the frame. If you would like to use your homemade headboard as a backrest, add a piece of lightweight wood to the front of your frame. You could then add a layer of cushioning material, like foam or fiberfill, before covering your frame with fabric. Your topped frame could also be faux-painted, tiled or decoupaged.
Recycle a Door
A door with a symmetrical pattern can make a great headboard. Simply remove any hardware from the door and paint or finish it any way you like. You can trim off the section that has a doorknob hole, or cover it with a decorative wooden medallion or other accent. Since the hole will not be centered, add one or more other accents to make it symmetrical.
Be Creative
A headboard can be made with a variety of found materials. Parts of couch frames, barn doors, surfboards and car hoods all can be made into headboards. Carefully affix any items that are placed over your bed. You do not want them to crash down on you while you are sleeping.