How Are Wooden Chairs Manufactured?
Table of Contents
Unless a chair is carved from a single piece of wood, any chair is manufactured in much the same way. Although the sizes of the components may change, the basics remain the same. This holds true whether a woodworker is making a single chair or if a shop is manufacturing thousands of matching wooden chairs.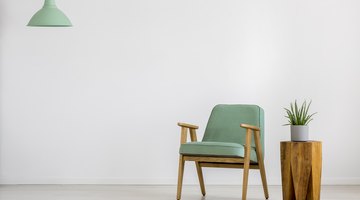 Designing a Chair
Before a chair can be made, the woodworker has to design it in such a way that it will be safe to sit in. The home woodworker will typically hand draw a design and then create a prototype from scrap lumber to make sure the chair is safe and stable. Large furniture makers hire engineers to design and draw the chair in a computer assisted drawing program and then manufacture and test the finished chair. Each flaw is tweaked in the CAD program until the chair is considered safe.
The Components
All chairs have three things in common: a seat, a chair back and a way to raise these off the floor. While chair styles may look different, they each include these three parts. Chairs without a back are considered a stool. Other components include armrests, footrests and stabilizer bars. Once the individual parts are designed, the next issue is the building methods used.
Putting It All Together
Depending on the style of chair, each component is manufactured individually. The seat is formed, and then the legs and back are attached. Any additional parts, such as armrests, are then added to the chair. For other chairs, each of these parts is milled separately and then put together into a standard chair. Upholstered and cushioned chairs have a process of including stuffing or springs before the outer covering to the seat is attached.
After Assembly
Once the finished chair is assembled, the manufacturer applies a finish to the wood. This finish can include wood stains, paints or simply oils to bring out the beauty of the wood. Some chair finishes include polyurethane to protect the wood from spills and scratches. Any fabric on the chair is treated with chemicals for the same protection.
The Finished Product
Chairs come in all shapes and sizes. From the smallest toddler chair to oversized recliners, they all adhere to the basics of chair building. Because of strict manufacturing processes, any wooden chair you buy should be considered safe and should last for generations. With the proper care, a wooden chair built today could easily become a treasured antique in the future.