Homemade Glass Polish
Your home sparkles when you use glass polish and cleaner. Shiny glass picture frames, TV screens, mirrors, windows and glass sculptures make your entire home glow. Homemade glass polish can be just as effective as commercial products, is less inexpensive and does not contain harsh chemicals that may be harmful to your health.
Vinegar and Water Solution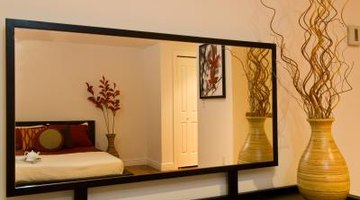 For a simple homemade glass cleaner or polish, the NaturoDoc.com website recommends combining 1/2 cup of white vinegar with 1 gallon of warm water. Pour this solution into an empty, clean plastic spray bottle. Spray the mixture on glass items and wipe off with a paper towel or lint-free cloth. This is an effective spray for cleaning any glass surface. Do not let the solution's strong vinegar odor keep you from using it. Vinegar is a natural deodorizer and its smell will fade in 10 to 15 minutes, leaving only a clean, fresh scent to the room.
Cornstarch and Ammonia Solution
An alternative to the vinegar and water solution is a combination of 2 tbsp. of cornstarch, 1/2 cup of non-sudsing household ammonia and 1/2 cup of white vinegar. Mix these ingredients in a bucket along with 1 gallon of warm water. This solution will give your windows a good spring cleaning, but try to avoid using it on sunny days because it has a tendency to leave streaks if it dries on the glass. Cleaning products that contain ammonia can be harsh on your skin, so wear protective gloves when working with this solution.
References
Resources
Writer Bio
Chelsea Fitzgerald covers topics related to family, health, green living and travel. Before her writing career, she worked in the medical field for 21 years. Fitzgerald studied education at the University of Arkansas and University of Memphis.
Photo Credits
Jupiterimages/Photos.com/Getty Images
More Articles