DIY Patterns for Outdoor Awnings
If you can make good sketches of your house, you can design a pattern for an outdoor awning. Use design books and Internet sites to gain ideas, but create several drawings to determine which ones best fit your house. Awnings can be constructed in many shapes and designs. However, you want to install one that is correctly proportioned to complement your house. The awning should harmonize with what's already in place.
Roof Considerations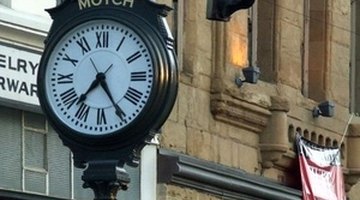 Awnings can be placed over a porch, patio, sliding glass door, French doors or windows. They are meant to give shade and protection from the elements, but awnings can add style and beauty to a home as well. By using metal or wood to build underlying framework, you can build a curved awning, awning with scalloped edges or slanted-roof awning. In drawing initial sketches, make the awning patterns fit the home's roof lines.
Choices of Styles
Review awnings in your neighborhood to target a style. For example, if you own a townhouse in a metropolitan area, you can use a curved fabric awning that would devalue a ranch house. Awnings can be slanted with both sides built in completely. Or, they can consist of a roof only with no sides. Awnings can be stationary or crank into place with a mechanical handle or motorized unit. Decide if you want a stationary roof to match your home's roof, or if you want fabric, bamboo, metal or wooden slats for shade only.
Making the Patterns
Always start with your ideal awning and scale back to fit your budget. You can cover the roof with asphalt shingles, cedar shakes or corrugated sheets of metal screwed onto framing. You can design a fabric awning cover you staple into place, or you can design a fabric cover you have made by a professional company. If you can afford to hire out to have the awning made, you can design it to slip into place over a wooden or metal frame. Choose a color that will look good for years.
Artistic Designs
One way to create a nice awning for a pool or patio is to construct a wooden framework and place roll-type bamboo material overhead. You can also install thatch roofing, if the awning is away from the house in case of fire. If you select an artistic fabric or covering that is non-traditional, make sure it fits well in your neighborhood. You don't want the awning to look too commercial or out of place in your region. Striped awnings, for example, usually look great on homes near the beach.
Upkeep and Maintenance
Constructing certain awnings will require regular maintenance on your part. Design a pattern that allows you to reach all parts for cleaning, or construct your pattern so you can take the awning down for cleaning with a bleaching agent or other product. If you build a wooden pattern with lots of detailing, consider how you will paint or stain it over the years. A poorly maintained awning can detract from the market value of your home.
References
Resources
Writer Bio
Judi Light Hopson is a national columnist for McClatchy Newspapers. She is founder of Hopson Global Education and Training and co-author of the college textbook, Burnout to Balance: EMS Stress. She holds a degree in psychology from East Tennessee State University, and has been a professional writer for 25 years.
Photo Credits
More Articles