Examine Framework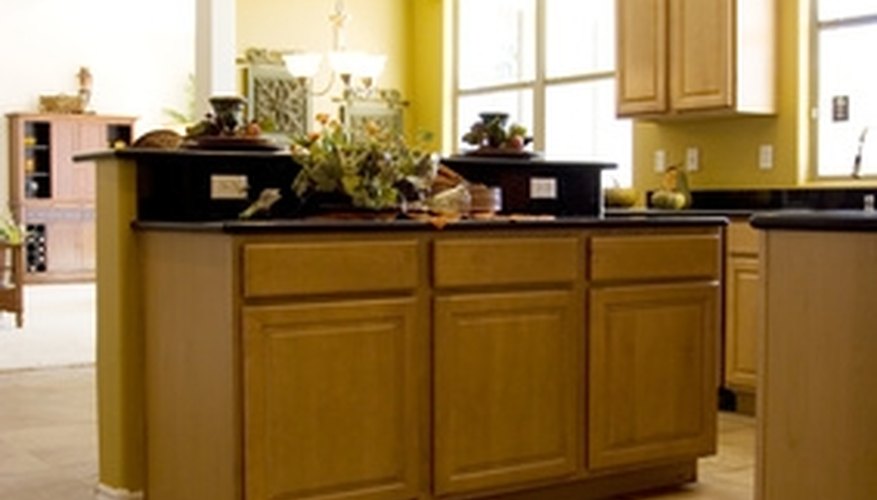 By creating an extra level, you can organize mixing, chopping or cleanup without interfering with island counter space already in use. Building on a new level can enhance the flow of work. The new level can also serve as counter space for eating once food preparation is completed.
Before you figure out the shape and size of an added level, you will need to assess how the existing island is built. For example, if your bar is solid with no doors, you have a couple of options. You can use a stud finder to figure out if there is sufficient wood for attaching a heavy counter. If you're in doubt, you can remove part of the exterior to view the interior design. Another option is to build a new level with support legs to bear much of the load.
Match Design Work
If your island is basically a square design, you have lots of design options. Sketch various shapes and designs to see what will work. You can build a level that wraps around two sides of the island. Or, you can build a new level that is a counter running at a right angle to what's in place. The addition at a right angle would need a support base of some type or support legs on the very end.
Attach the New Level
Tying in the new level will require using materials that match what's already in place or using materials that harmonize with what's in place. You can utilize screws or nuts and bolts under the new counter space to attach directly to lumber framework on your existing island. The actual counter covering can contrast with existing counter top material. But, any base materials should match the rest of the island to look as if it's always been in place.
Creating a Bar Level
For large gatherings, a dining space bar on your island can accommodate six to eight people or more. Before you start to design the finished bar, it's probably a better idea to buy a couple of stools you will use. Figure out the exact height and knee space of the new bar level you will attach by sitting on a stool. Sketch the dimension of the bar to accommodate guests or family while they are eating. Never design a bar level just around the measurements of stools pushed underneath. You want your bar to work well for a group of people sitting elbow to elbow on busy holidays or during social gatherings.
Add Special Features
A new level can feature extra drawers on the front of the counter space. Also, you might want to run water pipes up from your basement to add an extra sink for preparing vegetables. A couple of posts on the ends can help to support a pot rack overhead that is secured to the ceiling rafters. Consider adding decorative molding or crown molding to give the new level an upscale look.