How to Build a Mattress Foundation
If you like the simple and modern look, making your own platform bed is an ideal mattress foundation. For those who don't have a lot of experience with furniture making, platform mattress foundations take little time and materials.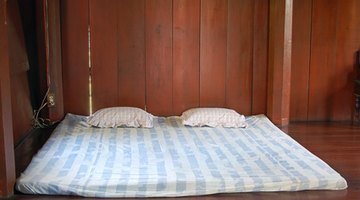 If you are on a budget, building a platform not only saves money but its sleek appearance suits any room.
Cut the plywood so you have enough to create a box shape to hold a mattress. This example uses a queen-sized mattress, which is 60 inches wide and 80 inches long. Cut two pieces 80 inches long and 6 inches wide for the side rails, and two pieces 60 inches long and 6 inches wide for the foot and headboards.

Nail the two side rails and end pieces together with your nail gun to form a complete square. Use two nails on each corner of the frame (on top and bottom), and place each nail at a 45-degree angle so as to connect both pieces of wood at the corners.

Cut four strips of birch plywood, slightly less than 60 inches long and 6 inches wide, to fit within the box for mattress support. The length of the strips will vary depending on thickness of birch plywood. Place each strip 16 inches apart to provide support to the mattress. Nail each strip to the plywood square frame on both (left and right) sides.

Lay down plywood to cover the entire surface of the platform bed, trimming if necessary with a circular saw. Screw the plywood cover every 12 inches to the bed frame and middle strips using a cordless drill and wood screws. Screwing the plywood down every 12 inches will prevent any wobbling of the wood once the mattress is placed down.

Smooth down wood with medium grit sandpaper, and then paint or stain to match the room. Allow to dry, then place the mattress over the plywood and complete the look with bedding.
Things You Will Need
Birch plywood
Nail gun
Finishing nails
Cordless drill
1 ½-inch wood screws
Circular saw
Sandpaper
Paint or stain
References
Photo Credits
floorbed image by Adrian Hillman from Fotolia.com
floorbed image by Adrian Hillman from Fotolia.com
More Articles