How to Clean a Wood Deck Without a Power Washer
Your deck is subject to all the insults and changes weather provides. Food spills, plant debris and water leave their marks on your deck as well. Make your deck clean and safe by swabbing it before adding the next coat of stain and water repellent.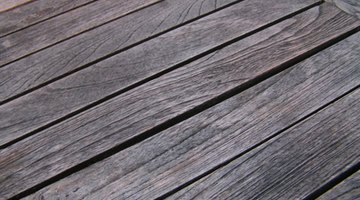 Your deck will last longer and you will be providing a surface that makes it easier for the stain and water repellent to do their work.
Things You Will Need
Bucket
Potassium soap of fatty acid based moss killer (1 gallon per 1000 square feet of deck)
Mop
Hose
Outdoor push broom with stiff bristles
Warning
This product is toxic for invertebrates that live in water, so avoid getting it directly into a water sources. Black areas on decks can be slippery and dangerous when they are wet, so use extreme caution to avoid slipping and falling.
Cleaning Your Deck
Remove all plants and furnishings from your deck.

Prepare a solution of potassium soap of fatty acid based cleanser and water, according to the manufacturer's directions.

Apply the solution to the deck with the mop, getting a 3-by-3-foot or 4-by-6-foot area thoroughly wet.

Use the outdoor push broom to scrub the deck where the solution has been applied and the deck is still wet. Scrub until the deck is clean.

Repeat steps 3 and 4 until you have moistened each part of the deck with the soapy solution and scrubbed it with the push broom until clean.

Use a hose with a spray nozzle or fan nozzle to rinse all the dirt and the soapy solution off the deck.

Wait until the deck is dry, then add some protective surface solution.
References
Writer Bio
Jenny Landis-Steward has written reports for child welfare research for over 14 years. She has a master's degree in clinical psychology. She was the editor of two social service agency publications for seven years. Her economic thesis was an analysis of employment trends.
Photo Credits
planking image by Alexander Mironov from Fotolia.com
planking image by Alexander Mironov from Fotolia.com
More Articles