About Diamond Plate Laminate Flooring
Table of Contents
Among the many laminate flooring choices is diamond plate laminate flooring. What sets this flooring apart from other laminates is the protective diamond plate coating that is placed over the top layer of flooring, which protects the wood from moisture, heat, sunlight and other damage-inducing elements.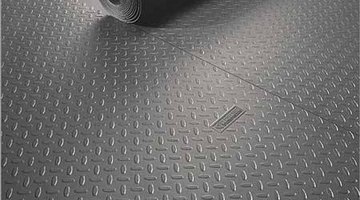 This coating is usually backed with a 10- or 15-year warranty that protects against excess damage to the flooring.
Features
Diamond plate laminate flooring is essentially a protective flooring, as it consists of standard laminate flooring that is then treated with a protective coating that is made out of aluminum oxide. To tell whether laminate flooring has been protected with diamond plate, simply turn it over and look for a diamond plate seal.
Types
Diamond plate laminate flooring can come in a variety of woods, including walnut, maple, oak, pine and birch. The material it is made out of depends on whether the flooring is formed from wood that is in plank shape or block shape. There are three main types of laminate flooring, all of which can utilize diamond plate. They are Pergo, Congoleum and Wilsonart.
Function
Diamond plate laminate flooring, like other laminate flooring, is one of the easiest floorings to install. Most laminate flooring systems simply click together and "float" above your home's foundation. You only need to establish which way you want the flooring to face, and where you have to cut around immobile pieces of furniture or odd angles.
Geography
Diamond plate laminate flooring is usually used in the high-traffic common areas of homes. These include the kitchen, bathroom, hallway, dining room and foyer. It is not usually used in gathering areas such as bedrooms or family rooms, because it is not particularly comfortable to sit or lie on, especially for children who want to play with toys on the floor.
Considerations
Diamond plate laminate flooring is not extremely durable. Excessive moisture or water can cause its sides to fold up, and the flooring may crack under intense weight, which could happen over time from being placed under a heavy piece of furniture, or suddenly, if a heavy object is dropped on its surface.
Writer Bio
Nellie Day is a freelance writer based out of Hermosa Beach, Calif. Her work can regularly be seen on newsstands, where her specialties include weddings, real estate, food and wine, pets, electronics, architecture and design, business and travel. Day earned a master's degree in broadcast journalism from the University of Southern California.
Photo Credits
toolmonger.com
toolmonger.com
More Articles