How to Clean an Indoor Outdoor Carpet
You've taken advantage of an outdoor rug to help define leisure space and create room-like settings for your patio, deck or porch and it's doing a bang-up job. But it's been outside for a while and you're wondering how to clean your carpet so it will stay nice-looking.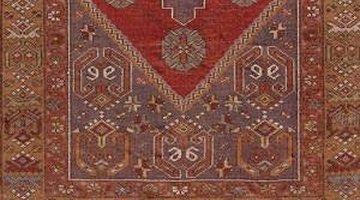 Here are some steps to try, along with some tips and cautions that will take some of the guesswork out of indoor/outdoor carpet care.
Things You Will Need
Dish-washing detergent
Bucket
Plastic broom
Scrub brush (optional)
Line to dry
Bleach (optional)
ShopVac® (optional)
Read and save the label. Indoor/outdoor carpets should have ultraviolet (UV) ray stabilizers in the fibers and be moisture resistant---made out of 100 percent Olefin (polypropylene and polyethylene). Check to see that these design elements are mentioned and that, in fact, your rug is weather-ready.

Vacuum carpet thoroughly.

Wash your carpet with gentle detergent and lukewarm water. Rinse by hosing it off. Here are specific problems and how to treat them: Oil---Olefin tends to collect oil and can become dingy, so spot clean with dish-washing detergent solution and scrub brush, rinse and dry. Wicking---Since this type of carpet is highly water resistant, you might detect returning stains. If soil is sticking to the fabric base, vacuum thoroughly twice before washing---you can vacuum top and backside. Another solution is to use a wet-dry vac (similar to Shop-Vac®) to suck the dirty water out of the carpet fibers. Crushing---Trampled fibers are normal and vacuuming might help but with longer piles there's not much to do. Mildewy and Mold---Test for bleach fastness in a less noticeable area. Use bleach diluted with water to clean, rinse and let dry in the sun.

You can use a plastic brush or broom to squeegee the water off.

Hang to dry.

Tip

When buying an indoor/outdoor carpet, look for: fiber density (push fingers into pile), chemical resistant dyes, UV protection and fungus-resistant type backing. Don't try to dry-clean olefin because the solvents inherent in the process swell fibers and will distort the weave. Ironing or applying heat is also a no-no since this fiber is quick drying and has a low melting point.

Warning

For use in wet areas, marine backing is a must-have. For use in slick areas, check for new pads for indoor-outdoor carpets.

Plush or thicker pile indoor/outdoor rugs should be used under covered areas only.

Use harsher cleaning solutions only when targeting stains; overuse will break down materials.
Resources
Writer Bio
Andrea Campbell is the author of 12 nonfiction books on a variety of topics. She is also an e-instructor, editor and columnist who has been writing professionally since 1991. Campbell, the daughter of a builder, writes frequently about home improvement. She uses her degree in criminal justice to write about forensic science and criminal law.
Photo Credits
More Articles