DIY Outdoor Shower
If you spend a lot of time working outside or have a pool, odds are you don't want dirt or chlorine and pool chemicals being tracked into your house. One of the best solutions for this is to install an outdoor shower.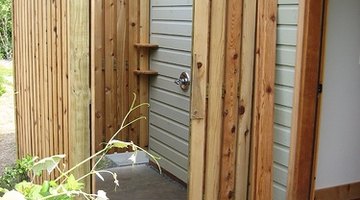 While it may take some time for you to be comfortable with showering outdoors, to build an outdoor shower is relatively easy to do.
Placement
The first thing you will need to do is decide what kind of shower you want and this will help you place it. If you are just looking for a quick rinse, you may just want to have a shower hooked up to your garden hose (which will give you a cold shower and is not for the faint of heart). There are also solar and camping showers that you can set up, which will provide a little more warmth to your water. With these, you can pretty much place them anywhere in your yard. Unless you have a drain, you will want to make sure they are away from the house so you don't get water under the foundation. If you want to have a shower like you have in your bathroom, you may have to cut into existing plumbing. This will place your shower next to the house. You will need to make sure you have a way to drain the water away from the house.
Building
The main component of the outdoor shower is the privacy screen. The best way to build one is to build a wooden fence around it. First, measure out a square, approximately 4 feet X 4 feet. The corners are where the posts will go. Using a post hole digger, dig down about 18 inches and place your posts in the holes. Using premixed concrete (you can get bags of this at any hardware store), fill the holes, making sure the posts are straight (use a level). Once the posts have set, you will be ready for the walls.
On three sides, screw or nail in 4-foot pieces of 2x4 to the center of the posts. You will need to use three pieces on all three sides, one approximately 18 inches from the top and bottom and one in the center. This will provide the rails for your boards. Once these are in and secure, screw fence boards to the 2x4 so that they are next to each other and no space is visible. For the most privacy, use 8-foot boards to line your shower with.
Finally attach your shower door. This should be built out of the same materials as your walls as this will make your shower look complete. Make a 6-foot x 3-foot frame with 2x4s, which will fit the open side. Attach the fence planks to the frame, and attach it to the shower using gate hinges and a gate latch.
Other issues
If you are building this shower next to the house, you will only need two fence posts as the house will provide one wall. Also, make sure you have someplace to hang the shower if you do not use the existing plumbing. A good solution is to place one more fence post at the rear of the shower and attach the hose of the camping shower to that.
References
Writer Bio
R.L. Cultrona is a San Diego native and a graduate of San Diego State University. She holds a Bachelor of Arts in theater, television and film with a minor in communications and political science. She began writing online instructional articles in June 2009.
More Articles