Cork Flooring Vs. Laminate Flooring
Table of Contents
Laminate flooring is in wide use today. It came into the flooring market as a cheaper alternative to hardwood floors. Lately, however, cork flooring is becoming popular as well. Both options are durable and easy to maintain, as well as being easy for do-it-yourselfers to install.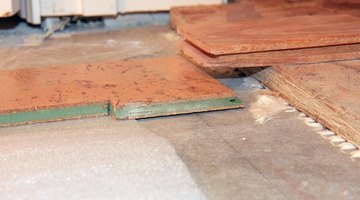 Cork
Cork flooring is a "green" alternative type of flooring. It is actually bark harvested from oak trees that mostly grow in Spain, Portugal and Tunisia. Therefore, it is renewable. It is naturally hypoallergenic and anti-microbial, and it resists insects. People like it because of its sound-absorbing qualities that make it quieter to walk on. Its springy quality helps prevent breakage and injury.
A cork veneer, bearing the design, adheres to a core layer of cork. A wide range of designs is available, and the cork is made to look like other materials such as bamboo or marble, in various colors.
Laminate
In laminate flooring, manufacturers combine a thin, transparent wear layer on top of a photographic image printed to look like hardwood planks. Under these layers are layers of particle board and a bottom paper to hold everything in place. High pressure and heat work to press the layers into a hard, solid sheet of flooring.
Installation
Both cork and laminate are easy to install. They can be installed over concrete, tile, vinyl and even some kinds of carpet. Both come in planks that are installed using a tongue and groove design in which the planks simply snap together in a floating floor configuration, without being attached to the base floor or walls. Laminate requires an underlayment of foam padding or even cork.
Additionally, cork comes in tiles or squares, which makes it possible to design unique patterns for the installation. However, the subfloor must be completely smooth because any bumps or dents will translate into the tiles since there is no underlayment. Also, cork flooring should be sealed with polyurethane, whereas laminate needs no such sealant.
Maintenance
Besides ease of installation, both types of flooring are durable for high-traffic areas. They both lend a warm feeling to a room. They are both stain-resistant and easy to clean and otherwise maintain. However, laminate planks can warp if they become wet for an extended period, and they are more susceptible to scratches and dents than cork flooring.
Cost
The price of these two flooring materials is what generally determines which is chosen. Laminate is much less expensive, with prices ranging from 89 cents to around $4.00 per square foot. Cork, on the other hand, can cost from about $3.00 per square foot up to $7.00 or more, because it is imported.
References
Writer Bio
Karren Doll Tolliver holds a Bachelor of English from Mississippi University for Women and a CELTA teaching certificate from Akcent Language School in Prague. Also a photographer, she records adventures by camera, combining photos with journals in her blogs. Her latest book, "A Travel for Taste: Germany," was published in 2015.
Photo Credits
velo Steve:Flickr.com
velo Steve:Flickr.com
More Articles