How to Recolor Grout
To help bring new life to an old tile floor, you can easily recolor your grout. Grout stains are available in a wide variety of colors and finishes. You can color the grout to match your existing decor or use a high-contrast color to make the tiles stand out.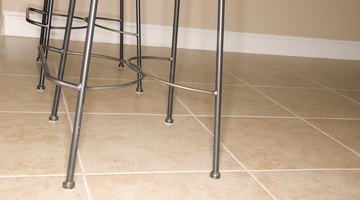 Things You Will Need
Sealer and adhesive remover
Grout cleaner
Stiff brush
Broom
Mop
Paint cup
Paint brush
Coloring your grout is not difficult and you can do it in a few hours with the right preparation.
Apply a few drops of water to a grout line to see if the water beads, indicating the presence of a grout sealant. Remove the sealant with a sealer and adhesive remover before attempting to recolor your grout. Follow the instructions that come with the sealer remover and allow the grout to dry completely before applying the coloring.

Clean the grout thoroughly with a grout cleaner and stiff brush. Follow the manufacturer's instructions when using the grout cleaner. Sweep the floor to remove any dirt or loose grout. Mop the floor to remove any remaining dirt and dust.

Mix the grout stain according to the included instructions. Pour a small amount of stain in a paint cup. Stir the stain frequently while applying it to the grout.

Apply a small amount of grout stain in an inconspicuous location with a small paint brush. Allow the stain to cure according to the manufacturer's instructions. Check to make sure the stain cures properly and is of the desired color after curing.

Continue applying the stain to the grout lines, being careful not to get the stain on the surrounding tiles. Wipe any stain off the tiles with a damp cloth before the stain dries on the tile.

Allow the grout stain to cure completely before resuming normal use of the tile floor.

Tip

The grout stain acts as a sealant, so there is no need to apply a separate sealant. For large jobs, combine multiple bottles of stain to achieve a uniform color.

Warning

Be sure the work area is well-ventilated. Keep the grout stain away from sparks or open flames.
References
Writer Bio
David Young has written for the website for the Save Darfur Coalition and is currently writing articles for various other websites. Young holds a Bachelor of Arts in philosophy from Western Carolina University.
Photo Credits
Jupiterimages/liquidlibrary/Getty Images
Jupiterimages/liquidlibrary/Getty Images
More Articles