Home Remedies for Polish Tile Floors
Chemical cleaners are used everywhere, but with growing health concerns related to the use of these products, many people are turning to homemade remedies of the natural sort.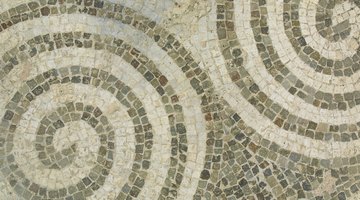 Homemade remedies for polishing tile floors are simple to make, and they don't leave you having to keep your doors open for hours to rid of the odor. Make sure to choose a solution that is suited to the material your floors are tiled with; otherwise, your floors can end up looking worse than before you polished them.
Wood Tiles
There are two different basic remedies for polishing wood tiles. The first uses one lemon, one tbsp. of olive oil and one tsp. of water. Squeeze the juice from the lemon and mix it with the water and oil. Apply a thin coat of this solution onto the floor before letting it sit for five minutes. Then use a soft cloth to buff it. This will create a nice shine.
The second recipe uses ½ cup of beeswax, ¼ cup of linseed oil, 2 tbsp. of wheat germ oil, and 1 cup of turpentine. Melt the beeswax, and add the oils. Take this mixture off of the heat and stir it until it has cooled down. Then pour in the turpentine and mix it thoroughly. Using a sponge, coat the floor with the mixture, allowing it to sit for 12 to 24 hours. Then polish it either with an electric polisher or by hand.
Ceramic Floor Tiles
These recipes will work for ceramic floor tiles or other similar types of flooring. The first recipe requires 1/8 cup of paraffin wax, a liter of mineral oil, and a few drops of lemon oil. Melt the paraffin wax in a double boiler, then add the two oils. Using a rag, apply this mixture to the floor and let it dry. You can then polish the floor either by hand or with a polisher.
If you prefer to go with a more basic recipe, you can simply mix dish detergent with water and mop the floor. If you wish, you can add scented oils to the solution.
References
Writer Bio
Jerry Garner has been writing semi-professionally for more than 15 years. The body of Garner's work includes informative articles, news and current events and historical essays. He is an avid sports fan and frequently writes about outdoor activities online.
Photo Credits
Hemera Technologies/AbleStock.com/Getty Images
Hemera Technologies/AbleStock.com/Getty Images
More Articles