Toklo Laminate Floor Problems
Toklo laminate flooring is a type of laminate floor that uses a core of real hardwood rather than an image like some other laminate companies. While this feature makes Toklo's product one of the top laminate flooring options on the market, there are several problems that can occur with Toklo's flooring.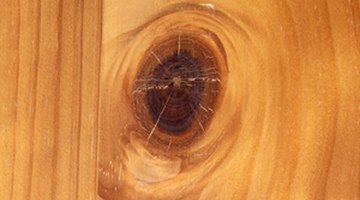 Installation
One of the biggest problems with Toklo laminate flooring occurs during the installation stage. Toklo floors are not laid down with glue or nails only. Rather they use an interlocking system that holds the whole floor down together. This can be a problem when the flooring is not installed correctly. If the boards are not placed together correctly, the entire floor can buckle up and even break. The best way to avoid this problem is to have the flooring professionally installed by a contractor who is familiar with installing Toklo floors.
Moisture
As with any wood or laminate floor, moisture can create many problems. Although the flooring is coated on all sides with waterproof sealant, moisture can still cause damage to Toklo floors. It is not recommended to use Toklo flooring in kitchen areas or bathrooms where moisture is always present. The best way to avoid this problem is to only place the laminate flooring in living areas that are not likely to get wet. Wipe up any spills as soon as they occur.
Replacement
Another problem with laminate floors of any kind, and Toklo floors are no exception, is the issue of replacement. When laminate flooring needs to be replaced in just one area, it is almost impossible to do. Because of the locking system, the entire floor would have to be removed just to replace one board. The boards could be cut out individually, but it would require many special tools and would be very time consuming. It can also be difficult to find a board that matches the grain and appearance of the rest of the floor; especially if the floor is older and has faded some. The best way to avoid this problem is to take good care of the floor. Install protectors on all furniture legs and do not walk with high heels on the floor. Never drag heavy items across the floor.
Maintenance
The maintenance of a Toklo floor can also be problematic. Chemical cleaners, wax cleaners, soap cleaners and abrasive cleaners cannot be used on a Toklo laminate floor. Water must be cleaned immediately from the floor. Furniture should also be moved several times a year to prevent indentation of the Toklo flooring.
References
Writer Bio
Brenda Priddy has more than 10 years of crafting and design experience, as well as more than six years of professional writing experience. Her work appears in online publications such as Donna Rae at Home, Five Minutes for Going Green and Daily Mayo. Priddy also writes for Archstone Business Solutions and holds an Associate of Arts in English from McLennan Community College.
Photo Credits
pin noueux image by Unclesam from Fotolia.com
pin noueux image by Unclesam from Fotolia.com
More Articles