New Construction Cleaning Checklist
New construction cleanup prepares the building for takeover by the new owners. A thoroughly cleaned building provides a couple of benefits. It makes the premises ready to move into immediately, and it provides a professional finish to the project.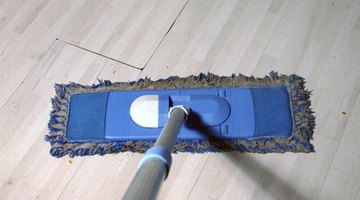 So many things must be cleaned before the building turns over to the owners that a checklist is required. Without it, highly visible items that are not clean will reflect poorly on the builder and call into question the overall quality of the job.
All Rooms
Remove trash. Remove labels and stickers. Remove painter's tape and masking tape as needed. Clean and polish glass. Vacuum heating, ventilation and air conditioning vents. Wipe down vent grilles. Wipe down baseboards, chair rails, crown molding and door trim. Wipe down window trim and clean sills. Wipe off door hardware. Clean light fixtures and install bulbs. Vacuum carpeting. Dry mop wood floors. Wet mop tile and concrete floors.
Bathrooms
Remove trash. Remove labels and stickers from fixtures. Clean and polish faucets. Clean countertops and backsplash. Polish mirror. Wipe down cabinet fronts. Clean and polish shower tile and surfaces. Polish shower faucets, shower heads and drain. Clean and polish tub and tub surround. Polish tub faucets and drain. Wipe off towel racks, bars and rings. Clean toilet, urinal and any other fixtures. Clean inside cabinet and vanity drawers. Clean inside vanity shelves and spaces behind doors. Clean any tile work on walls or around windows and doors.
Kitchens
Remove trash. Clean sinks and polish faucets. Wipe down cabinet fronts and exposed sides. Remove any items in cabinet drawers and place on the countertop. Clean insides of cabinets and drawers. Clean cabinet shelves. Clean and polish countertops. Remove tags and labels from the appliances and sinks. Clean and polish appliances. Clean under sinks.
Exterior
Collect trash and debris and dispose of it in the dumpster. Clean exterior window glass that could not be cleaned from inside. Sweep and hose down entryways, porches, patios and walks. Wipe down handrails and door hardware. Wipe down house numbers and mailbox/mail slot. Wipe down air conditioner chiller. Clean out basement window wells. Clean stucco, concrete and paint or stain off outside faucets and vents. Wipe down soffits. Check and clean gutters. Clean exterior lights and check for broken bulbs.
Utility/Basement/Garage
Remove trash. Vacuum furnace surfaces, hot water heater and washing machine and dryer connection points. Clean stairs and landings, and wipe down balusters and handrails. Wipe off tops, sides and bottoms of exposed ductwork. Wipe off door hardware.
References
Photo Credits
floor cleaning #4 image by stassad from Fotolia.com
floor cleaning #4 image by stassad from Fotolia.com
More Articles