How to Clean a Culligan Water Softener
There are several reasons why home and business owners choose to install Culligan water softeners in their home or office space. Water softeners filter magnesium and calcium from water, which can make the water safer to drink.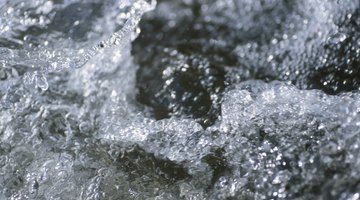 Water treated with the salt of a softener also tends to taste better and can help skin and laundry feel softener. To ensure that all the of the benefits of owning a Culligan water softener continue, a proper cleaning of the unit must take place at least once a year.
Things You Will Need
Small shovel
Plastic container
Small bucket
Large bucket
Screwdriver
All-purpose household cleaner
Paper towel
Salt
Disconnect the power cord for the unit from the wall. Lift off the top lid and remove the brine valve, which is found in the smaller chamber inside the unit.

Remove any dry salt with a small shovel and set it aside for later use in a clean plastic container, such as a bucket.

Scoop out any liquid that is found in the unit with a small bucket. This liquid will appear cloudy and is composed of brine and used salt.

Pour the liquid that was taken from the unit into a larger bucket. This brine and salt can be flushed down the toilet or poured down a sink for disposal.

Remove the brine valve chamber. The chamber will be attached to the unit with screws that must be loosened. Set this chamber aside.

Remove the salt plate, which is found at the bottom of the unit. Set it aside.

Clean the interior walls of the unit with an all-purpose household cleaner. This cleaner can be sprayed onto the walls and wiped away with paper towel.

Place the salt plate and brine valve chamber back into the unit, tightening the screws. Re-install the brine valve.

Fill the unit with salt, plug it back in and reset the clock, which is found on the bottom half of the unit. This clock will be need to be adjusted because any information that was previously contained on it will be lost after the unit has been unplugged.
References
Writer Bio
Residing in Chippewa Falls, Wis., Jaimie Zinski has been writing since 2009. Specializing in pop culture, film and television, her work appears on Star Reviews and various other websites. Zinski is pursuing a Bachelor of Arts in history at the University of Wisconsin.
Photo Credits
Photos.com/AbleStock.com/Getty Images
Photos.com/AbleStock.com/Getty Images
More Articles