How to Lubricate an Overhead Garage Door
One way to keep your garage door operating smoothly is to lubricate the door and springs. Lubricating the overhead garage door requires using two types of lubricants. The rollers, hinges and pulley require a light oil while springs and track benefit from a silicone spray lubricant.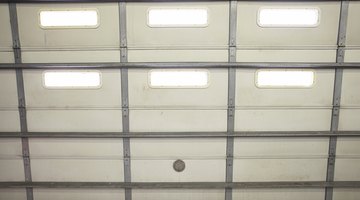 It is a good idea to lubricate your garage door once every six months.
Things You Will Need
3-in-one penetrating oil
Silicone lubricating spray
Apply penetrating oil to the bearings on each door roller. Place the tip of the penetrating oil bottle near the base of the stem and the roller where you see the bearings. Rotate the roller wheel with your finger to distribute the oil.

Turn the sleeve on each outer hinge so that the seam is facing you. The sleeve is the portion of the hinge that holds the roller stem. Apply two to three drops of penetrating into the seam of each sleeve. Grasp the protruding end of the roller stem with your fingers, and rotate the stem to evenly distribute the oil.

Set up a stepladder under the front torsion springs, if your door has springs on a torsion bar above the door. Spray the length of each spring liberally with the silicone lubricating spray. Open and close the garage door to work the silicone into the spring. Do not spray the cable drums for torsion springs.

Position the stepladder under the upper door track on one side, if you have springs that stretch along the side of the upper track. Fully open the garage door.

Spray the length of the stretch spring with the silicone spray. Apply a couple of drops of penetrating oil into the pulley bearings on the front of the spring. Place a couple of drops of oil on the pulley bearing at the front of the upper track. Repeat for the other side of the door.

Wipe the inside of each vertical track and the track curve with a cloth. Spray a light coat of silicone in the curve of each track. Do not spray any other place inside the track.

Tip

Avoid using WD-40 as a lubricant. Once the WD-40 cuts through the rust, little lubricant is left.
References
Writer Bio
Kenneth Crawford is a freelance writer with more than 10 years of experience. His work has appeared in both print and online publications, including "The American Chronicle." Crawford holds an associate degree in business administration from Commonwealth College.
Photo Credits
Jupiterimages/Photos.com/Getty Images
Jupiterimages/Photos.com/Getty Images
More Articles