Ideas for Knotty Pine Cabinets
Knotty pine cabinets can be a great addition to any kitchen. The simple details of the wood grain add a natural feel to the room and a deep varnish can give them a warm, earthy glow.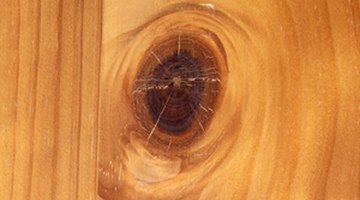 If you're considering knotty pine cabinets, you should think carefully about the overall effect you'd like to create and what style of cabinet might suit you best.
Experiment with Framed Cabinet Doors
One of the greatest things about knotty pine is its all-natural, rustic feel. To give your knotty pine cabinets that old-fashioned touch, experiment with framed cabinet doors. This type of cabinet door has a raised rim or frame, much like a picture frame. It is made up of four different pieces of wood which can be joined together in a mitered joint, where each piece of wood meets at a 45 degree angle. These frames are easy to make, and more visually interesting than frameless doors, which are made out of a single slab or panel of wood. Using different cuts of wood on each cabinet door will also bring out the different textures of the knotty pine wood grain, and accentuate its all-natural appeal.
Go for the Rustic Look with Wainscoting
If you are building a cabinet beneath your kitchen counter, consider wainscoting for an extra old-fashioned look. Wainscoting is the practice of laying wooden slats along the base of a wall and it was popular in American kitchens in the late 19th and early 20th centuries. The wood slats are usually joined together using a tongue-in-groove method, meaning the edge or "tongue" of one board fits into a groove in the one beside it. This technique can be used to build the sides of cabinets, the areas around the doors and even the doors of the cabinets themselves. If you're also adding open shelving to your kitchen, you could add wainscoting along the back of each shelf to complete the effect.
Don't Forget about the Knobs
Knobs may be a pretty tiny detail, but the wrong kind of knob could detract from the look of your knotty pine cabinets. When you're considering cabinet designs, think carefully about the overall effect you are going for and what type of knob might suit it best. If you want a simple look, you may want to forget about knobs altogether. A more arts-and-crafts style kitchen might look good with tarnished brass knobs or painted wooden knobs. If you're feeling conservative, you could also add small pine knobs. If you do, make sure you buy them unvarnished, or varnished to match the color of your cabinets, since two different types of varnish can get kind of distracting. Remember, pine is a very soft wood, so there is a slight danger that pine knobs could fall off over time, especially if you've got kids around.
References
Resources
Writer Bio
Sal Griffin has been writing professionally since 2006. She has written for a number of online and print publications, including the "Philadelphia City Paper" and "New York Arts Magazine." Her writing specialties are home improvement, gardening and travel. Griffin received her Bachelor of Arts in English from Bard College.
Photo Credits
pin noueux image by Unclesam from Fotolia.com
pin noueux image by Unclesam from Fotolia.com
More Articles