What Goes With Terra Cotta Paint Color?
You can use the color terra cotta to paint home decor, accents or walls. The color's name descends from the Italian "earth" and "clay", which characterize the tone of the reddish-brown earthenware. Terra cotta paint color is an essential part of Mediterranean- and Western-inspired color schemes.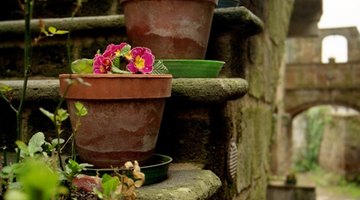 Types
Terra cotta paint color provides a bold background for cultural decor. Italian, Mexican and American Southwest color schemes incorporate terra cotta reds, as they are reminiscent of the roofing tiles, flooring and gardens found in these regions.
Features
Color schemes that include terra cotta combine it with neutrals and muted colors that mimic the stone, stucco and plaster used in regional architecture. Interior walls of Tuscan farmhouses, for example, are usually white, according to Dream Home Decorating. Also incorporate warm colors such as oranges, yellows, browns and reds.
Identification
To identify which colors work best with terra cotta paint, use a color wheel. The design tool will allow you to pair terra cotta with similar analogous colors and warm tones, opposite or contrasting complimentary colors such as blues, and contrasting yet balanced triadic colors such as purple and green.
References
Writer Bio
K.C. Hernandez has covered real estate topics since 2009. She is a licensed real estate salesperson in San Diego since 2004. Her articles have appeared in community newspapers but her work is mostly online. Hernandez has a Bachelor of Arts in English from UCLA and works as the real estate expert for Demand Media Studios.
Photo Credits
tuscan flower pot image by Bryce Newell from Fotolia.com
tuscan flower pot image by Bryce Newell from Fotolia.com
More Articles