Removing a Troy-Bilt Trimmer Head
Troy-Bilt manufactures a universal trimmer than can be used with a trimming head for cutting grass and a brush cutter blade attachment for tough vines and woody items. The two heads attach differently.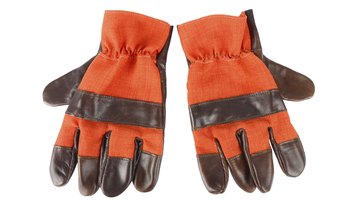 Knowing how to remove the string trimmer head and attach the brush cutter blade allows you to get to work on tougher items quickly. The removal of a trimmer head is also the same if you are installing a new trimmer head in place of a faulty one.
Things You Will Need
Leather gloves
Safety glasses
Troy-Bilt locking rod
Allen wrench (optional)
Adjustable wrench
Flat-head screwdriver
Put on leather gloves and safety glasses. Place your Troy-Bilt trimmer on a flat surface with the trimmer head pointing upward and allow it to cool completely if it was in use recently. Pull the boot from the spark plug.

Insert the straight end of the locking rod into the locking rod slot underneath the trimmer head. The locking rod is included in the purchase of a new Troy-Bilt trimmer and brush cutter. If you do not have the locking rod, insert an Allen wrench into the hole. Hold the locking rod's long end tightly to the shaft with one hand or hold an Allen wrench in place with one hand near the trimmer head.

Grasp the trimmer head with your other hand and turn it clockwise to unscrew it and lift it off the trimmer shaft.

Insert a flat-head screwdriver into the three screws in the cutting attachment shield, turn them counterclockwise and remove them. Set the cutting attachment and its shield aside for storage.

Install the brush cutter shield onto the trimmer with the three screws removed with a flat-head screwdriver. Place the brush cutter blade on the output shaft, followed by the blade retainer with the flat side down, and then the nut.

Insert the locking rod or an Allen wrench into the locking hole under the brush cutter blade and hold it in position. Turn the nut with a 13 mm wrench or an adjustable wrench until it is tight. Reconnect the spark plug.

Tip

Reverse all steps to remove the brush cutter blade and replace it with the grass trimmer head.

Warning

Each of the cutting attachments has its own shield that is installed in place to keep the tool operator and others in the work area safe from the trimmer string or brush-cutting blade.
References
Resources
Writer Bio
Mary Lougee has been writing for over 10 years. She holds a Bachelor's Degree with a major in Management and a double minor in accounting and computer science. She loves writing about careers for busy families as well as family oriented planning, meals and activities for all ages.
Photo Credits
Florin1605/iStock/Getty Images
Florin1605/iStock/Getty Images
More Articles