Disadvantages of ADT CellGuard
ADT CellGuard offers a backup option if your landline goes down or you don't have one, but there's no guarantee of reliability and it adds to the cost.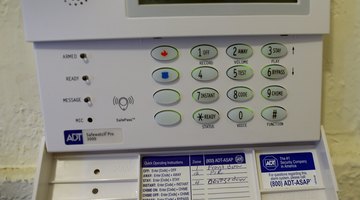 ADT is one of the oldest home security options and is a well-known name in security. Having a reliable home security system protects your family, but it's only as reliable as its connection to the monitoring service. The Safewatch CellGuard option with ADT security systems adds a backup connection for your system. Exploring the advantages and disadvantages of this optional service helps you decide if you need it.
How ADT Works
Unlike many DIY security systems, ADT systems are professionally installed and monitored. ADT offers customizable home security systems that help you get the type of protection you need. It offers a 24/7 monitoring service, which gives you peace of mind, but you need some way to connect to the monitoring service reliably to have that protection.
Traditionally, home security systems use landlines to connect to the monitoring service. Many systems now offer Wi-Fi and cellular options or backups. Safewatch CellGuard is a cellular connection option for ADT customers. It can be used in addition to or instead of a landline connection with your ADT system.
Pro: Alternative to Landline Connection
Almost two-thirds of American adults are wireless only, meaning they have a cellphone and no landline at home. If you opt for ADT CellGuard, you don't need a landline to have consistent monitoring. This makes it easy to have ADT protection without getting additional services that you don't want or need.
Pro: Works in Various Situations
Even if you have a landline, there's no guarantee that it will be functioning properly when an emergency happens. Bad weather or sabotage from a prospective burglar can disconnect your landline and render it useless. Sometimes, your landline simply goes down or stops working during or after servicing by the phone company.
CellGuard kicks in when your landline isn't working properly. It can keep you connected even if the power is out or a bad storm takes out the phone lines. If a burglar tries to cut your phone line, you still have a backup connection to the ADT monitoring center.
Pro: No Cellular Contract Required
ADT requires a 36-month monitoring contract when you start your service. However, you don't need to have your own cell plan or sign a separate contract for the cellular service if you upgrade to CellGuard. ADT takes care of the cellular connection for you, so you don't have to find and set up cell service that's compatible with the system.
Con: Additional Monthly Cost
Having CellGuard can increase your monthly alarm system monitoring costs. Some packages come with CellGuard included. If you have a basic monitoring package, you might need to upgrade your monitoring package to a level that includes this service. Check with your ADT representative to explore the pricing options to find a solution that includes CellGuard to get an accurate price comparison.
Con: Additional Installation
If you already have the older landline-based ADT service, upgrading to CellGuard might require a visit from a technician. You'll likely need to have a cellular transmitter added to your current home security system to get it to work with CellGuard. This is only a minor inconvenience, but it can be a pain to coordinate an in-person visit from an ADT technician.
Con: No Guarantee of Reliability
Not every area has a strong, consistent cell signal. If you live in an area with patchy coverage or weak cell signals, CellGuard might be unreliable. In some areas, there's no cell signal at all, which makes CellGuard useless. ADT doesn't guarantee the stability of the cell connection, so you could end up without coverage at times.
References
Writer Bio
Based in the Midwest, Shelley Frost has been writing parenting and education articles since 2007. Her experience comes from teaching, tutoring and managing educational after school programs. Frost worked in insurance and software testing before becoming a writer. She holds a Bachelor of Arts in elementary education with a reading endorsement.
More Articles