Uses for Carpets
Carpet is a common household item that may be used in a variety of ways. Carpet is a popular feature in home decorating, and it is often incorporated into a home's interior design. There are many types of carpet, including some used outdoors, and the function the carpet will serve aids in selecting the type.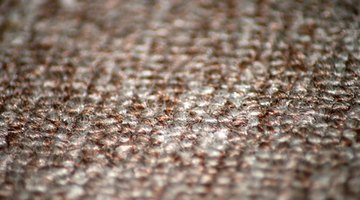 Even scraps of carpet may be useful around the home and garden.
Decor
Wall-to-wall and area carpet are popular to cover floors and enhance a room's decor. There are many styles and types of carpet meant for decorative and pragmatic purposes. The kind you choose will depend on how much traffic a room gets and what style best suits the rest of your decor. Cut-pile carpet is a popular choice, as it is very durable. Plush carpets are softer and often show footprints when someone walks across them. Berber carpet is made of looped fibers and is extremely durable and resistant to tracking. Frieze carpets are made of twisted fibers and are also extremely durable. Some carpets may feature more than one of these styles.
Outdoor
Carpets meant for the outdoors are often both decorative and practical. Carpet may be used to cover a porch, walkway or the edges of a garden. This type of carpet is made of plastic derivatives and must be waterproofed for the best durability. Outdoor carpet comes in a variety of designs and is often as easy to install as gluing tiles to a concrete surface.
Scraps
There are many uses for carpet scraps left over from projects. Carpet scraps may be used as cushions for your knees when gardening, or to slip under heavy furniture to protect the floor while moving it. They may be used to clean window screens and scrapers while working on a project. Pieces of carpet may be placed underneath washers and dryers to eliminate thumping noises. They are also useful to pet owners, as carpet scraps may be used to make a scratching post for a cat or a bed for a dog.
References
Writer Bio
Frannie Bogojevich worked for several years at a nonprofit where she became unofficial copy editor of press releases and blurbs describing cultural events. Her work there was first published in 2006. Bogojevich is artistic director of Magenta Giraffe Theatre Company and manages all marketing aspects of the company. Her online articles specialize in history and theater.
Photo Credits
carpet close up image by isatori from Fotolia.com
carpet close up image by isatori from Fotolia.com
More Articles