How to Troubleshoot Coast Spas
Coast spas are designed with entertainment in mind, with features ranging from advanced pump systems to a built-in entertainment system. Common problems with Coast spas include leaks, varied water temperatures, faulty DVD or CD players or water pressure issues.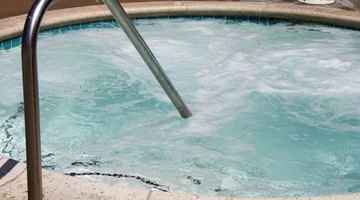 Most problems are easy to fix, but some issues may require the help of a professional repairman.
Check the breaker that connects to your spa's power source if your water is cold, if your pump has stopped running or if your water flow is low. Make sure the breaker is in the "On" position. Clean the filter cartridge if your water still runs cold. Replace the O-ring on the water pump if you experience further problems. Consult an electrician to check the voltage on your line if the problem still persists.

Tighten any loose connections, fittings, gaskets or O-rings with your hand if you are experiencing leaks in your hot tub. Avoid splashing water into the filter canister, as it will drain to the bottom of the tub.

Replace the light bulb if your spa light won't come on. Clean away any build-up on the light bulb cover if you still have problems with the lights.

Check the fuses in the pump if your pump motor is not running. Wait for the motor to cool, then try to run it again. Reprogram your spas' cycles to perform during cooler parts of the day or for shorter periods of time if you still experience problems. Call your dealer if you can see something lodged in the pump.

Loosen the top valve on your pump to release any spare air and to allow more water flow if your pump will not prime or if it is running hot. Check the valves, motor vents and pump suction for any possible blockages. Double-check your O-ring to ensure it is in place and close the valve tightly. Check all valves to ensure they are tightly closed.

Turn the jet faces to the open position if your jets are having trouble turning on. Ensure that both gate valves are in the up position.

Replace batteries for problems with the floating remote. Check for a blown 5A fuse in the fuse box if you are not receiving power to your spa's DVD player or CD player/radio. Push the on/off button on the provided remote control while holding the controller within 4 inches of the screen if you still have no power.

Increase volume manually or with your remote if you experience problems with sound. Hold the remote close to the screen. Turn off the CD player and turn it on again to switch to auxiliary input to further troubleshoot sound problems. Ensure your monitor and DVD player are switched to "On" if you are having picture problems. Press "TV," then the "Play" button until your screen reads "Video" mode. Try different channels and input sources if you still experience problems. Check your cable TV connection if only snow appears on your screen. Press the "Auto Scan" button if the connection is in place.
References
Writer Bio
Brittiany Cahoon began writing professionally in 2003. She has been published as a reporter and columnist in the "Mountaineer Progress," "The Rattler" and other regional newspapers. Cahoon holds a Bachelor of Arts in English from Brigham Young University.
Photo Credits
pool spa 1 image by Aaron Kohr from Fotolia.com
pool spa 1 image by Aaron Kohr from Fotolia.com
More Articles