How to Clean Light Switches
Light switches can get handled several times a day, depending on the room they're in and the number of people in the household. The light switch in a bathroom, with no windows, may be turned on and off many times a day. All those fingers leave the switch dirty and sometimes even sticky.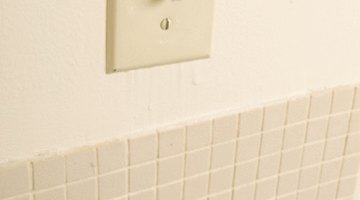 Things You Will Need
Cloth
Hot soapy water
Cotton swabs
Paper towels
Rubbing alcohol
Clean light switches on a regular basis so they don't look and feel grimy. Clean all the switches in the house at once.
Put a cloth in hot, soapy water. Wring it out. Wipe the top of the light switch plate where it collects dust. Wipe around the switch itself on the wall plate.

Use a cotton-tipped swab dipped in soapy water to get into the crevices around the switch plate and the wall.

Wipe the switch with the cloth. Turn the light on and off to get underneath the switch as well. Dry the switch. If the switch is very dirty, use a cotton swab dipped in rubbing alcohol to clean it. The alcohol evaporates quickly.

Warning

Do not get water into the switch.

Do not spray the switch with cleaner.
References
Warnings
Do not get water into the switch.
Do not spray the switch with cleaner.
Writer Bio
Katie Jensen's first book was published in 2000. Since then she has written additional books as well as screenplays, website content and e-books. Rosehill holds a Master of Business Administration from Arizona State University. Her articles specialize in business and personal finance. Her passion includes cooking, eating and writing about food.
Photo Credits
Jupiterimages/Photos.com/Getty Images
Jupiterimages/Photos.com/Getty Images
More Articles