What Side of a Lauan Underlayment Faces Up?
When laying new flooring down, such as hardwood, the surface that the final flooring is attached to is important for the integrity of the installation. Many types of these underlayments are available, including lauan, a form of plywood.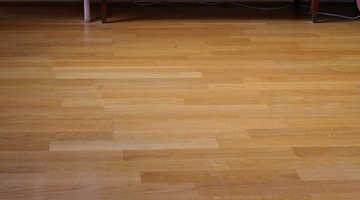 Identification
Underlayment is a layer of particleboard, hardboard or plywood attached to a subfloor or foundation to create a smooth surface on which to install the final flooring. Lauan underlayment is a popular type of plywood to support new flooring installations.
Installation
When installing lauan underlayment, make sure the smooth side is facing up and any nails or staples from installing the lauan are hammered down. This ensures an even surface for installation of the finished flooring.
Significance
The popular use of lauan as an underlayment is due to its availability in the market place, as well as its history as a reliable product. There are three grades of lauan. It is recommended to use the highest grade of lauan, designated BB, as underlayment.
References
Writer Bio
Writing professionally since 2010, Amy Rodriguez cultivates successful cacti, succulents, bulbs, carnivorous plants and orchids at home. With an electronics degree and more than 10 years of experience, she applies her love of gadgets to the gardening world as she continues her education through college classes and gardening activities.
Photo Credits
Parquet floor image by Einar Bog from Fotolia.com
Parquet floor image by Einar Bog from Fotolia.com
More Articles