How to Install a Samsung Washing Machine
Installing a Samsung washing machine requires a viable space near a water supply and discharge tub or drain. The tools you need to correctly install the washing machine come with the unit, save for a flat screwdriver you need for leveling.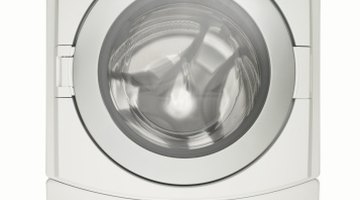 You can choose to have the washing machine installed by a professional installer or you can save time and money by doing it yourself.
Select the location for your Samsung washing machine. Choose an area that is at most 4 feet from the water supply and near a drain or wash/utility tub. Do not install the washer in an area that will be exposed to prolonged direct sunlight or subject to freezing temperatures. Choose a location within reach of an electrical outlet with a ground, as you should not ever use an extension cord.

Lay the washer gently on its side. Place the soundproof plate onto the bottom of the machine over the square opening. Place the panel onto the bottom of the Samsung washer with the arrow on the panel pointing to the front of the washer.

Push the four clips on the panel into the openings on the bottom of the machine. Insert the four included screws and tighten them with a Phillips-head screwdriver. Stand the washing machine upright.

Remove the four bolts on the rear panel of the washer with the included wrench. Place the four spacers (included) into the openings the bolts previously occupied.

Place the included washers into the independent hot and cold intake hoses. Screw the intake hoses onto the faucets. Turn on the water supply and check for leaks.

Place the standpipe (included) over the edge of the laundry/utility tub and slide the drain hose into the standpipe. The hose should open into the tub on one side and travel down the outside of the laundry tub to washing machine on the outside of the tub.

Adjust the leveling legs at the corners of the washing machine until the washer is level. Use a wrench to raise or lower the legs as needed. Tighten the bolts on the legs with a flat screwdriver once the machine is level.

Plug the power cord directly into the wall outlet for power and ground.

Warning

Do not use an extension cord. Only plug the Samsung washing machine into a grounded outlet.
Warnings
Do not use an extension cord. Only plug the Samsung washing machine into a grounded outlet.
Writer Bio
Jule Pamplin has been a copywriter for more than seven years. As a financial sales consultant, Pamplin produced sales copy for two of the largest banks in the United States. He attended Carnegie-Mellon University, winning a meritorious scholarship for the Careers in Applied Science and Technology program, and later served in the 1st Tank Battalion of the U.S. Marine Corps.
Photo Credits
Ryan McVay/Photodisc/Getty Images
Ryan McVay/Photodisc/Getty Images
More Articles