Alternative Uses for Magazine Racks
Magazine racks do more than just hold magazines. Use them for creative storage solutions in the bathroom, to utilize wall space in the kitchen, to organize your tools or even as a container garden.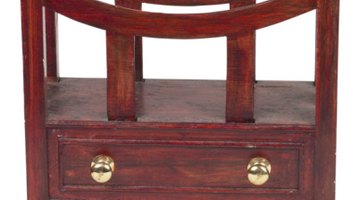 A coat of paint and some creative thinking can turn old magazine racks into charming and functional home and garden accessories.
Bathroom
Magazine racks are ideal for adding a little extra storage space in the bathroom. If you are refinishing the rack, use a paint or finish that will stand up to high levels of moisture. A satin finish is washable and easy to apply. If you prefer a shinier look, go with semi-gloss or gloss paint or clear coat finish. Mount the rack on the wall near the shower to keep shampoo and body wash bottles within reach and off the shower floor. Roll towels and line them up in the rack for a functional, decorative touch.
Food Storage
If you don't have room for a fruit bowl, mount a magazine rack on the wall to keep bananas, apples and oranges organized and off the counter. You can also use a rack to store potatoes in the garage or cellar. According to Potato Pro, a Web-based news service for the potato industry, potatoes are best stored in perforated plastic bags and in a cool, dark room, not on the countertop, refrigerator or under the sink. A magazine rack will easily hold one or two bags of potatoes, provide enough air circulation to prevent rotting and keep them off the garage floor. Mount a rack on a kitchen wall to display bottles of oil, vinegar or spices.
Kitchen Storage
Magazine racks are useful for keeping similar items organized and tidy. Mount one on the wall near a hanging pot rack to store the lids to your pots and pans. Use one on the countertop or in a cabinet for storing cutting boards and baking pans. You can also use a magazine rack to hold kitchen towels. If you need to clear up some counter space, mount the rack on the wall and use it hold coffee supplies, canisters or cooking utensils. Attach cup hooks to the bottom for hanging things like coffee cups, potholders, rolling pins and other utensils.
Plants
Use a magazine rack as a planter. If the base of the rack is wide enough, fill it with some potted herbs or strawberries. As the plants grow, they will trail up, over and through the rungs. If you prefer to plant directly into the rack, line it with a coco liner, which is a natural fiber, porous, straw-like material. Water will drain out the sides, so it is not necessary to drill drain holes in the bottom. You should, however, use an outdoor finish on the magazine rack to protect wood from becoming saturated and rotting or use a non-porous liner on the bottom. Plant a combination of leafy green vegetables and some flowers to spill over the sides for an attractive, edible container garden.
References
Writer Bio
Julie McMurchie has been writing family-related articles since 1990. Her work has appeared in "The Pony Express" and "California Kids Magazine." She studied composition and creative writing at Riverside Community College.
Photo Credits
Hemera Technologies/PhotoObjects.net/Getty Images
Hemera Technologies/PhotoObjects.net/Getty Images
More Articles