To Cut Plywood, Is the Finished Side Up or Down?
When cutting plywood, it is imperative that you saw properly for the best finish. Even though plywood is a cheaper alternative to hardwood, that does not mean you should skimp on proper cutting techniques. Plywood often has a finished and unfinished side.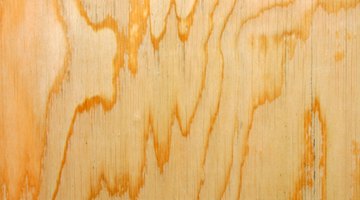 It is important to situate the wood on the correct side before taking a saw to it. Get the most out of your building project by determining how to correctly cut plywood.
Make sure you are using a fine-tooth power saw when cutting plywood. Large-tooth blades can cause splintering. Use a minimum 10-inch by 60-tooth saw blade for the smoothest cut.

Place the power saw on a flat surface large enough to securely support the plywood plank. Table saws are another option.

Saw through the plywood plank with the finished side up if you are using a miter, table or radial arm saw. If you are using a circular saw, the finished side of the plywood must be facing down to avoid chipping the finished surface.