What Is a Loft Bedroom?
A loft bedroom can have many different configurations depending on the architectural space and the furniture used to create it. It can utilize one bed or several in a modern day makeover of the shared bedroom bunk bed concept. A loft bedroom can fit into any living space from an RV to a loft building.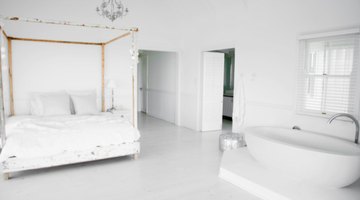 The kinds of loft bedrooms are endless, as their configurations make it easy to rearrange the sleeping and living spaces they occupy.
All-In-One Unit
A loft bedroom unit combines a raised or floor-level bed platform with raised or floor-level bookshelves, a study desk, and a computer work station or closet in one free-standing unit. Sometimes these components can be switched around to change the look and use of the loft bedroom unit. There is usually an attached ladder or small set of stairs for access to the raised components.
Open Loft Area
A loft bedroom in a home or an apartment is an open area on an upper floor that is usually contained by some type of railing and a staircase or permanent ladder leading to it. The loft area may be viewed from below and contains a bed, dresser and other bedroom furniture. An open loft bedroom may fit into the upper interior of a building with an A-frame or flat-roof style.
Loft Bed
A loft bedroom can also be a bedroom whose bed is raised up on a loft frame anchored to the wall. A small ladder is attached for access to the bed. The frame holds the elevated bed platform only. A separate dresser or study desk and computer work station may be placed beneath the loft or around the room. A loft bed creates more ways to use the bedroom's space, including adding another bed below.
Industrial Loft
Loft apartment buildings are usually re-purposed industrial spaces. A loft apartment may be one big open area divided into smaller areas by using furniture, wall dividers or other means to demarcate different use areas. For example, a double bed can be placed foot first toward a bank or bay of windows with the back of a bookshelf against the back of the headboard to provide a private loft bedroom that cannot be seen from the rest of the loft apartment.
References
Writer Bio
Mary McNally has been writing and editing for over 13 years, including publications at Cornell University Press, Larson Publications and College Athletic Magazines. McNally also wrote and edited career and computer materials for Stanford University and Ithaca College. She holds a master's degree in career development from John F. Kennedy University and a bachelor's degree from Cornell University in counseling.
Photo Credits
Jupiterimages/Goodshoot/Getty Images
Jupiterimages/Goodshoot/Getty Images
More Articles