Uses for Old Grain Silos
When urban sprawl gobbles up agricultural spaces, items like grain silos are left behind. However, a trend in upcyling is finding new uses for them. Grain silos are often used as living quarters, bed and breakfast spots and art.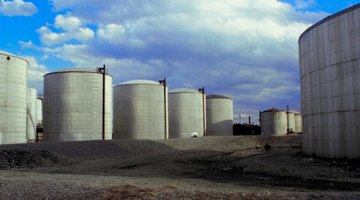 A sturdy floor, roof walls and a resistance to extreme weather conditions are attractive silo features. Added are porches and an overall modernized interior, because in most cases, a grain silo is a blank canvas for the design-inspired, green-minded individual.
Assembly and Cost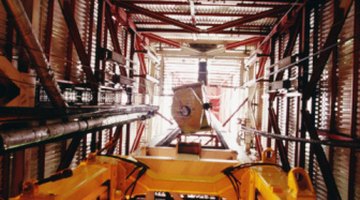 A crew of people can put a silo up in a day and as for mobility, the silos are disassembled just as quickly. A small used bin can be bought for a few hundred dollars or obtained for free. Used bins are frequently available on Craigslist or eBay. Farm co-op bulletin boards are also helpful for locating used silos. Companies that move silos may be found within the farm store and farm supply circuit. Prices of new steel grain bins depend on the diameter, height and region of the country, but costs start at about $7,000 for an 18-foot-diameter bin, not including the cement foundation slab or assembly.
Construction Safety
Construction specialists who work with silos frequently, have expressed that installing windows in a round structure can be a challenge and that the wind can collapse an empty grain silo. People who like recycling enjoy reusing old things and staying as green as possible. Experts who have constructed grain bins for their own living space say the interior walls should support the second floor and not rely on the grain bin to do so. It is structurally sound but not designed for the added loads. Any alterations like doors and windows can compromise the integrity of the design.
Drawbacks
Silo bin construction workers say that stability is an issue when disassembling the silo. Bins of the same brand and diameter would be best when using several at a time; otherwise, they won't have interchangeable parts. A good example of this is the bin within a bin process to create a void for insulation. Most insulated silos require interior studding. That void can be filled with insulating material. Also round buildings aren't the easiest to work with so many times, a grain silo is cut in half from top to bottom and one piece is used as a roof. Reinforcing grain silos with steel makes it strong enough to be a gazebo or a shed; however a shed would require a bigger door.
Silophone
Another use for old grain silos is art. Montreal, Canada is home to Silophone or Silo Five in the Old Port of Montreal. The reinforced silo went out of use in 1996 but since 2000 has been turned into a musical instrument that can be accessed by land phone, cell phone or through the Internet. It allows people around the world and to listen or contribute to the unusual acoustic nature of the silo. A number of original works for the Silophone have been commissioned from musicians, composers and sound artists. Also a museum exhibition and walking tour focusing on the industrial and social value of the silo Montréal was the economic hub of Canada.
References
Resources
Writer Bio
Leslie Jones McCloud is a professional writer who has worked as a reporter for City News Bureau of Chicago, Chicago Defender Newspaper, Alliance News, Post Tribune, Boca Raton News and Crusader Newspaper during her eight year career. She has also worked at WJOB in Northwest Indiana and WTLC in Indianapolis. Ms. McCloud holds a B.S. degree in Journalism from Indiana State University.
Photo Credits
NA/AbleStock.com/Getty Images
NA/AbleStock.com/Getty Images
Photos.com/Photos.com/Getty Images
More Articles