Problems With Traverse Drapery Rods
Drapes add much to every room they decorate, but ones hanging on traverse rods can have operational problems. Traverse rods work by string and pulleys, so moving parts tend to cause mechanical problems.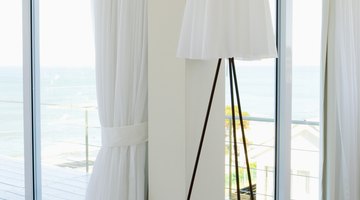 The one-way stack rod shifts the drapes to one side only whereas the two-way stack or center draw parts drapes from the center. Whether you have a one-way stack rod or a center draw or a two-way stack draw, similar problems manifest.
Purchase the Correct Traverse Rod
Most people's drapery problems begin and end with incorrect measurements or rods not strong enough to hold the curtains. Before purchasing curtain rods, measure the windows at least twice. Traverse rods too short or too long for the window will look right or may not work properly. Also ascertain that the curtain rod can support the weight of the drapes. Check the packing box for this information. Heavy drapes demand curtain rods of equal strength.
Traverse Rod Installation
Many problems begin with improper installation. Level the traverse rod and make sure it aligns with the mounting brackets. A slanting curtain rod not only looks unsightly, but gravity may eventually help pull it from the wall. If the traverse rod measures as long as four feet or if weighty curtains hang from the rod, center support brackets to prevent sagging rods or dipping in the middle. Buy more than two brackets for heavy traverse rods and curtains.
Slider or Pin Problems
Traverse rods have sliders or pins to which curtain hooks attach to the rod. Too many sliders interfere with the rod's opening and closing. Sometimes the sliders break or become damaged and must be removed and replaced. Purchase the correct size pins. Periodically examine the sliders to make sure each connects to curtain hooks.
Drawcord Problems
Traverse rods open or close depending on a drawstring gliding over a pulley. Both the string and the pulley can malfunction. The cord can fray, knot or break and need replacement if the drapes do not move at the pulling of the drawcord. Re-thread the rod with new string. For pulley malfunction, spray with silicone or compressed air to clean particles from the pulleys.
References
Resources
Writer Bio
Patricia Hunt first found her voice as a fiction and nonfiction writer in 1974. An English teacher for over 27 years, Hunt's works have appeared in "The Alaska Quarterly Review," "The New Southern Literary Messenger" and "San Jose Studies." She has a Master of Fine Arts in creative writing from American University and a doctorate in studies of America from the University of Maryland.
Photo Credits
Goodshoot/Goodshoot/Getty Images
Goodshoot/Goodshoot/Getty Images
More Articles