How to Space Grommets on Curtains
Decorative curtains can be the main attraction of a room. Grommet curtains are a great way to add a modern flair to curtains and accent a room with a more refined look. You can purchase a grommet kit with various sizes and finishes that include brass, brushed nickel, silver, antique brass and more. An important feature of grommet curtains is the detail, and making sure the grommets are accurately spaced is a key part of professional looking curtains.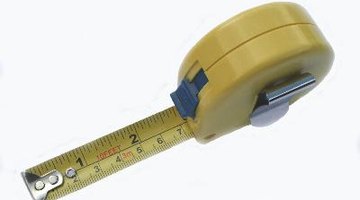 Step 1
Begin with a set of clean panel curtains.
Step 2
Lay the curtains on a sturdy flat surface.
Step 3
Mark the placement for the grommets on the curtain with a fabric pen. Place the first grommet 1 inch away from the edge of the curtain seam. Be sure to center the grommet horizontally so that it is not to close to the top of the curtain. Recommended grommet spacing from the top of the curtain is 1 and ¼ inches. Grommets should be placed 6 inches apart for larger grommets, and 8 inches apart for smaller grommets.
Step 4
Use the grommet kit to install the grommets as directed.
Step 5
Insert curtain rod (a pole of 1 and 3/8 inches is recommended). Hang the curtains and enjoy.
References
Writer Bio
Sherita Smedley is a freelance writer whose work often focuses on women's issues. She teaches English at Central Texas College, and her short story "The Hour" was published in "The GNU Literary Journal." Smedley holds a Bachelor of Arts in History from Valdosta State University and a Master of Fine Arts in Creative Writing from National University.
Photo Credits
More Articles