What Kind of Staples Does a Bostitch Model H2B Use?
The Bostitch Model H2B is a discontinued hammer tacker formerly made by Stanley Bostitch. It uses staples with a 7/16-inch crown and 3/8-inch leg length. Current offerings from Stanley Bostitch bear little resemblance to the H2B.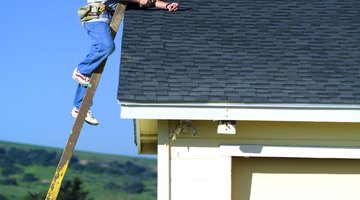 The Staples
The staples that feed into a Bostitch Model H2B are specially made for the defunct tool, so they may be hard to find at the local hardware store. They are available, however, on various retailer websites like usahardware.com, amazon.com and brockwhite.com.
Characteristics of a Bostitch Model H2B
The H2B has a somewhat clunky look and lacks the sleek design features of its descendants, the H30 PowerCrowns and the PC2K - PowerSlam PowerCrown. It is also heavier than other hammer tackers. "The H2B jams occasionally, but the ease of clearing the jam (is) possible when working from a ladder, scaffold [or] roof's edge," says Connecticut residential contractor Walter K. Parker, He says that although the tool seems to jam regularly, he admires its durability.
Similar Tools
The H2B's closest descendant in the Bostitch family is the PC2K Powerslam, which has a similar shape to the H2B and weighs about a half pound more than other Bostitch offerings. The newer Bostitch hammer tackers are compatible with 1/4-inch to 3/8-inch STCR2619 PowerCrowns. Other models of hammer tacker include the Stanley PHT250C Heavy Duty Hammer Tacker, the Arrow Fastener HT65 and the Central Forge 99707. In general, hammer tackers are used to attach roofing felt to buildings, do insulation work, put up privacy curtains and wrap the side of a house while a construction job is still in progress.
Reloading the Bostitch H2B
Users can reload the Bostitch H2B by opening the metal release at the front of the stapler and emptying the H2B of any remaining staples. Loading new staples in with old staples can result in a jam. Insert a full stick of 84 staples into the gun. Users can then shut the clip over the opening and resume use.
References
Resources
Writer Bio
Jeremy Fisk is a professional writer who has written for TheStreet.com, "The New York Observer," Mediabistro and other publications. Fisk has published stories about media, finance and crime in both print and online media. He holds Bachelor of Arts degrees in French and English from Georgetown University.
Photo Credits
Brand X Pictures/Brand X Pictures/Getty Images
Brand X Pictures/Brand X Pictures/Getty Images
More Articles