How to Clean Nail Polish From Porcelain
Always tightly close nail polish lids and store them away from children to prevent nail polish from spilling and staining porcelain surfaces in your bathroom such as toilets, sinks and bathtubs.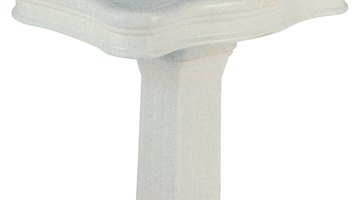 Things You Will Need
Nail polish remover
Cloths
Trisodium phosphate
Luckily, porcelain is a non-porous surface that will not absorb the nail polish as easily as a porous surface such as wood or concrete. Use cleaning solutions and solvents that will dissolve the nail polish's hold on the porcelain surface.
Soak a clean cloth in nail polish remover.

Rub the cloth over the nail polish stain on the porcelain. Work from the edges of the stain toward the center and rub until the stain is gone.

Immediately mix ¼ cup trisodium phosphate with 1 quart water. Mix until the trisodium phosphate completely dissolves.

Dip a cloth into the solution and rub it over the stain to neutralize the nail polish remover. This will prevent the chemical solution from sitting on the porcelain for too long and damaging it.

Rinse the porcelain with clear water and dry it completely with a clean cloth.
References
Writer Bio
Kaye Wagner has been working in the fields of journalism and public relations since 2006 and is a recipient of a National Hearst Award. She is particularly interested in home-and-garden projects, as well as beauty and fashion writing. An avid traveler, she also writes travel reviews and guides. Wagner earned a Bachelor of Arts in journalism from Brigham Young University.
Photo Credits
Comstock/Comstock/Getty Images
Comstock/Comstock/Getty Images
More Articles