Filler for the Gap Between the Countertop and Stove
The width of a range, whether freestanding or slide-in, has been fairly standardized between manufacturers. Some ranges are designed to fit into a set space in the kitchen between two countertops.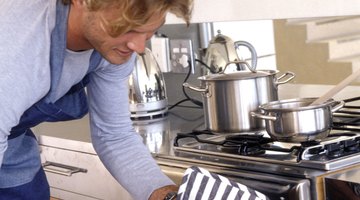 It's not always a perfect fit, and you may be left with unsightly gaps of an inch or two between the countertops and the range.
Gaps
Most freestanding and slide-in ranges are 30 inches wide. Home builders incorporate that width into their standard kitchen plans. It only takes a mistaken measurement of 1/2 to 1 1/2 inches to result in unsightly and inconvenient gaps between the range and the cabinets. Food can fall down into the gaps, making a mess and inviting pests. The tight space makes it difficult to clean without pulling the stove out each time.
Filler Strips
Cover the gap between the range and the counter top with filler strips, also called counter trim kits or stove top extenders. Most manufacturers offer strips that come in common appliance colors, such as stainless steel, white, black or bisque.
Installation Instructions
The countertop trim kits come with two strips. Before installation, measure the filler strips and trim for length as necessary. Some kits include double-sided tape for the underside of the strips. Others are magnetic and simply adhere to the range. Press the strips into place, with the fins extending down into the gaps.
Permanent Solutions
Filler strips are temporary solutions to covering the gap between the range and the countertops. One way to eliminate the gaps completely is to purchase a range that's a better fit and slightly wider than your current range. Because of slight manufacturing differences, ranges of the same make and model can measure width differences of 1/4 to 3/4 inch. If you're planning on purchasing new countertops for your kitchen in the near future, ensure that the countertops will be lengthened to nearly touch the range.
References
Writer Bio
Jenna Marie has been editing and writing professionally since 1993. Her editing background includes newspapers, magazines and books, and her articles have appeared in print and on websites such as Life123 and AccessNurses. She specializes in writing about parenting, frugal living, real estate, travel and food. Her nonfiction book was published in 2008. She earned a Bachelor of Science in journalism from Utah State University.
Photo Credits
Pixland/Pixland/Getty Images
Pixland/Pixland/Getty Images
More Articles