How to Identify an Old John Deer Backhoe Loader
In 1838, John Deere started manufacturing farming plows and, in the years since, the company has built many different pieces of equipment. John Deere backhoes have many uses, ranging from land clearance and digging up stumps on the farm to digging foundations for construction.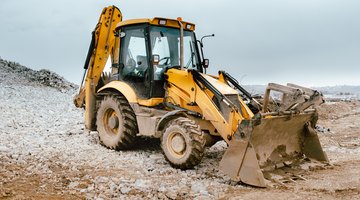 They can also be classic or antique machinery. If you considering buying an old backhoe and are trying to determine whether it's a Deere and its age and model, it may be easier than you think.
Spotting a Deere
Closely look over the backhoe. One easy way to tell a piece of John Deere equipment is by its green and yellow paint job. However, backhoes are traditionally construction yellow with black trim. Look at the backhoe and try to determine whether you are looking at the original paint. Look for chipping or rust spots, or other layering spots to see whether there is another layer of paint underneath. Also, John Deere equipment is normally prominently marked with the company name and logo. Look on both the front and rear assemblies for any mention of John Deere.

Locate the serial number. Each piece of equipment is marked with a serial number, which can be used to determine many different things about the piece. For example, you may be able to tell the year and model of your backhoe simply by referencing the serial number. Depending on what year it was made, the serial number may be in a variety of different locations. Common locations include under the seat, on the motor or transmission, or under the wheel well. Look for a small metal plate, and the serial number should be punched into it. Other pieces of John Deere backhoes may have their own serial numbers as well, such as the digging or plow apparatuses or motor assembly. Write down any numbers you find and where you find them.

Visit a reference web site. After you have your serial number, get on your computer and visit the Restoration Supply Company's website. Use the first four to six numbers of the serial number against the charts to determine what year your tractor was made. For example, if the first six numbers are 8300000, then it was manufactured in 1958.

Contact the John Deere company. Calling the corprate offices or a local dealer of John Deere might help you fill in any blanks you have about your backhoe. Likely, they will ask for the serial number of your equipment, so have it handy.

Warning

Depending on the age and condition of your backhoe, you may want to approach it with care when looking for the serial number. Be aware of sharp edges and rust areas.
References
Writer Bio
Lesa Storms has been a professional writer since 1998. Her publications include numerous regional newspapers as both an on-staff and freelance reporter, for which she earned several writing awards from the Michigan Associated Press. Storms has a Bachelor of Arts in journalism and a Master of Arts in education, both from Michigan State University.
More Articles