How to Train for a Moffett Forklift
Moffett manufactures trucks, forklifts and truck-mounted forklifts for use primarily in the United Kingdom and North America. Training procedures for Moffett lifts vary by locality and the specific type of machinery in question.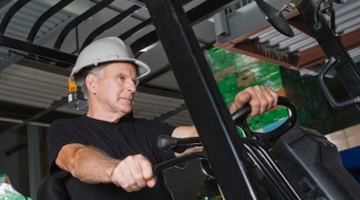 Typically courses are offered for training in the usage of the lift which lead to certificates of completion for participants. Training and refresher videos also exist to help those who either have no knowledge of how to operate the lift or haven't used one in awhile.
View the training videos available through transportation schools or online sources. While they do not provide the same hands-on experience, the videos do offer an introduction to how forklifts work and what to expect when operating them.

Contact your local Moffett distributor. Often the local distributor offers an official certification training course on the Moffett forklift (particularly the truck or lorry mounted model) through a local school. Government departments, such as regional branches of the Occupation Safety and Heath Administration (OSHA), typically offer training courses in general forklift operation.

Purchase a training course or seminar on forklift operation through a government department or school. Specifics depend on region, but courses typically cost between $200 to $300 (as of February 2011). These courses often includes training videos and other extras.

Complete the course or seminar. Seminars are often offered through Moffett-approved schools and result in a certificate of completion. Government transportation departments offer more general courses which license operators to use forklifts. In the United States, for example, OSHA forklift certification is valid for three years.
References
Writer Bio
Jess Kroll has been writing since 2005. He has contributed to "Hawaii Independent," "Honolulu Weekly" and "News Drops," as well as numerous websites. His prose, poetry and essays have been published in numerous journals and literary magazines. Kroll holds a Master of Fine Arts in writing from the University of San Francisco.
Photo Credits
Jupiterimages/Comstock/Getty Images
Jupiterimages/Comstock/Getty Images
More Articles