How to Store a LoveSac
The Lovesac line of alternative furniture brings to mind the fad of beanbag chairs and sofas. However, they contain no polystyrene foam. According to Shawn Nelson, founder and CEO of Lovesac, they are filled with cut foam.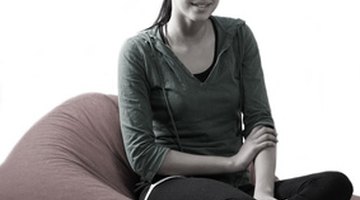 To store or move a Lovesac, the company recommends the purchase of a Shrink Kit, which is specially designed for the novelty furniture. Purchase them at a Lovesac retailer or from the Lovesac company website.
Things You Will Need
Lovesac Shrink Kit
Vacuum cleaner with hose attachment
Tip
Use your body weight to help shape the Lovesac into the desired rectangular form as the air is being sucked out of it.
Warning
Ensure that the plastic bag is never sucked into the vacuum cleaner.
Thoroughly dry a freshly cleaned Lovesac before storing it. This helps avoid accumulation of mildew.
Remove the cover of the Lovesac. Unzip the outer cover and remove the inner Sac.

Insert the Sac inside the plastic bag that came in the Shrink Kit. Knead and push the Sac until it sits in the middle of the bag.

Slip the end of the vacuum hose into the plastic bag. Hold the ends of the plastic bag tightly around the hose.

Turn the vacuum on. Apply pressure to the plastic bag to remove air pockets. Push with your hands, or have someone else sit or kneel on the bag.

Flip the Sac over when the bag is half deflated. Continue to work the air out of the bag until the Sac completely compresses to the size of the storage duffel bag included in the Shrink Kit.

Keep the vacuum going while transferring the deflated Lovesac into the storage duffel bag. Slowly zip the bag toward the opening where the vacuum is still attached and running.

Pull out the vacuum hose quickly when opening is fully zipped up to the point where the vacuum is attached. Stuff the plastic bag into the hole before allowing any air to escape. Close the zipper the rest of the way. Your Lovesac is now deflated and ready to store.
References
Photo Credits
Young pretty women on red bean bag relaxing image by Christopher Meder from Fotolia.com
Young pretty women on red bean bag relaxing image by Christopher Meder from Fotolia.com
Zipper image by Gudellaphoto from Fotolia.com
Sauberkeit image by Michael Homann from Fotolia.com
More Articles