What Is a Modular Sofa & Loveseat?
Sofas come in all shapes and sizes thanks to sectional and modular sofas. They've turned sofas into versatile pieces that aren't simply for sitting on anymore. Sectionals offer much more fixed seating to accompany numerous guests while a modular sofa can be divided and moved around the room.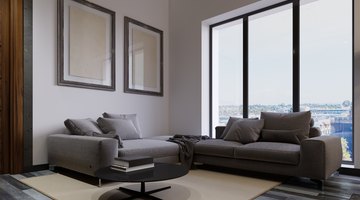 Living rooms are the spaces in our homes where everyone gathers to spend time together and relax. Since it's a room that often holds a lot of people at once, it's only natural to find a sofa or couch where many people can sit together. Selecting the perfect couch can be a challenge, however the perfect option is out there depending on what exactly you need it to do.
Sofas and couches come in many varieties, such as sleeper sofas, sectionals and even modular versions. The options are basically limitless, so it all depends on how your space is set up and how much is available. Sectional and modular sofas may seem like the same thing; however, they provide very different options for occupying the space.
Sofa vs. Couch
Before getting into the details of the differences between sectional and modular sofas, it's best to start from the beginning and establish what the difference is between a sofa and a couch. While the terms are pretty much interchangeable now, they used to mean very different things.
A couch, coming from the French word "coucher," was used as a place to lie down and rest. The term couch has evolved into a more versatile usage to define a big comfortable piece of furniture that anyone can come and throw themselves on. A sofa, on the other hand, originated from the Arabic "suffah" that was used to refer to hard wooden structures that were covered in blankets and cushions. The word sofa has developed more to relate to a nice piece of furniture that you receive guests on that doesn't always have the utmost comfort.
What is a Sectional Couch?
A sectional sofa or couch is considerably more common than a modular sofa. Sectionals are meant to sit more people than a typical sofa but also end up taking up more space in the room. Sectional couches are physically attached together, making them extremely difficult to move once they're assembled. This could be a major downfall if you're the kind of person that likes to move their furniture around often to give the room a fresh look.
The goal behind sectional couches is that they take on a different shape to offer a different type of relaxation or seating option. For example, there can be smaller options where the couch makes a small "L" shape. This means that there's one section of the couch that's longer so someone can lay back and literally put their feet up. There are also much larger options where the couch can take over a full corner of the room by lining both walls and stretching out as far as the homeowner wishes.
What is a Modular Sofa?
A modular sofa is the type of sofa that can essentially transform into any form you want. They're typically made of various parts that aren't connected together and can be moved around at will. The joy of this type of sofa is that it's easily adaptable no matter what situation you need to adjust to. If you need a space for someone to sleep over, the sections can be moved to create a bed. They can also be separated to create split seating if you're expecting a large number of guests and want to encourage an intimate and conversational atmosphere.
Similar to the sectional sofa, a modular sofa can be any size that you wish to fit the space you're furnishing. They can be made for small spaces and large while never giving up their versatility. Selecting a sofa can be tricky, but as long as you know the space you're trying to fill, the options available are nearly limitless.