How to Dispose of an Old Piano
Disposing of a piano can be tricky, especially if you do not know how much your piano is worth. Unfortunately, many old pianos are just old pianos, and the cost to move them may be more than the value of the instrument.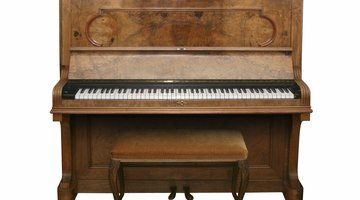 Online resources can help sell or donate a piano, or a school or church may take the piano off your hands.
Warning
Piano World recommends avoiding purchasing a square piano, unless you use it only as furniture. Square pianos--not to be confused with upright pianos--were manufactured in the late 19th century and look like a table. They go out of tune quickly, and many tuners will not work on them.
Decide if you plan to sell your piano or give it away. You have a good chance of selling a relatively new piano in good condition. Selling an older instrument is another story. To sell your old piano, compare prices that other individuals are receiving for your brand of piano. The Piano World website offers an online forum, where you can browse classified ads by typing in your make and model.

Post a classified ad on Craigslist, eBay or in your local newspaper. Include the year, make, model and the condition of the instrument. If the piano is an upright, locate the manufacturing information on the inside. Since some people use a piano as furniture, take several pictures. If you offer the instrument for free, clearly state that you are not paying moving costs--unless you are willing to do so.

Donate your piano if you tried to sell it unsuccessfully or if you feel it is not sellable. Call local churches and schools. During a slow economy, schools and churches may not have a budget to purchase instruments and may be delighted to acquire a piano. Volunteers movers save moving costs. Schools and churches use pianos primarily for rehearsals and likely require only that the piano is playable or tunable. The Piano Adoption website is an online forum that matches organizations or individuals with pianos that suit them.
References
Resources
Writer Bio
Nicolas Arteaga has been working as a freelance writer since 2008. He writes articles about music education for "Musopen" and "Music Teachers Helper." Currently, Arteaga teaches and performs piano throughout northern California. He has studied music theory at the Guildhall School of Music.
Photo Credits
Jon Helgason/iStock/Getty Images
Jon Helgason/iStock/Getty Images
Stockbyte/Stockbyte/Getty Images
Huntstock/Huntstock/Getty Images
Ralf Nau/Digital Vision/Getty Images
More Articles