Whirlpool Duet Dryer Error Codes
Whirlpool manufacturers a line of dryers known as Duet, which features a steam cycle and digital interactive face. When problems occur, the Duet dryer will display an error code to indicate the problem.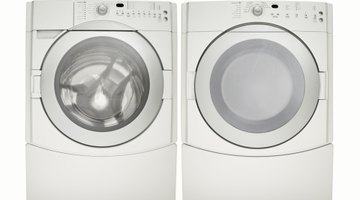 Most of these problems you can troubleshoot yourself, though a few will require involvement from a qualified service technician.
PF
If your Whirlpool Duet dryer flashes the code "PF" on its digital display, the dryer was running during a power surge or failure. Since the code is showing, the power is back on and you simply need to press "Start" to restart the drying cycle from where it left off.
L2
This code may appear despite the fact that the Duet dryer's drum will rotate. This code indicates that there is a no or low line voltage to the dryer. While the dryer's drum will turn, the heat may not turn on. Check the building's fuse box and circuit breaker for problems. Replace the damaged fuse and reset the circuit breaker as needed. Whirlpool says that the dryer will continue to work if you clear the code by pressing any key that will show the remaining time for the dryer cycle. Whirlpool recommends you contact a qualified electrician if the code shows again.
AF
The code "AF" is an indication of a low airflow problem. To take care of the problem, troubleshoot the issue yourself by checking and cleaning the filter, ventilation system and exhaust hood of lint and other types of debris. Check that the ventilation system is in accordance with the installation instruction recommendations as well. Restart the Duet's drying cycle. If the code reappears, Whirlpool recommends that your home's dryer vent system should be professionally cleaned.
E
Any error code starting with "E" followed by numbers indicates a code meant for a service technician. Call your Duet dryer retailer or Whirlpool directly to set up a servicing appointment.
Writer Bio
Based in Southern California, Daniel Holzer has been a freelance writer specializing in labor issues, personal finance and green living since 2004. His recent work has appeared online at Green Your Apartment and other websites. Holzer studied English literature at California State University, Fullerton.
Photo Credits
Ryan McVay/Photodisc/Getty Images
Ryan McVay/Photodisc/Getty Images
More Articles