How to Make a Fake Window Using Electroluminescent Sheets
Electroluminescent sheets provide an effective way to add a fake window to your home. They emit a soft, glowing light that is similar to sunlight. The electroluminescent sheets are lightweight and plug into a standard electrical socket via an adapter. A fake window adds interest to your room and brightens the area.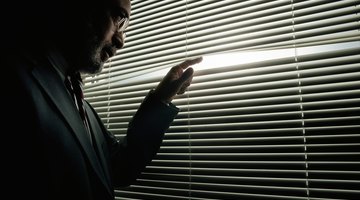 This is effective in any room of your home where you want to add a touch of light without using another lamp or ceiling light fixture.
Hold the electroluminescent sheet up against the wall where you want the fake window. Mark underneath the sheet with a sharpened pencil to indicate where the self-adhesive hook and loop discs should go. Make the marks 1 inch down from the edge and toward the center of the sheet. Choose an area close enough to an electrical wall outlet to allow you to plug the adapter in easily.

Peel the backing off four of the self-adhesive discs. Place one in each corner on the backside of the electroluminescent sheet. Do this 1 inch down from the edge and 1 inch toward the center of the sheet. Press the discs down firmly to ensure the adhesive sticks.

Add the other side of the hook and loop discs to the wall. Place the discs on the marks so they will match up with the ones on the back of the electroluminescent sheet.

Mount a window shade over the electroluminescent sheet using a screwdriver and the hardware that comes with the blinds. Follow the directions included with the blind hardware.

Plug in the inverter from the electroluminescent sheet to the adapter that is included. Connect the adapter to your electrical wall outlet to light up the screen.

Open the blinds when you want a soft light to enter the room. Close them or unplug the adapter when the light is not necessary.
Things You Will Need
Electroluminescent sheet (in the size you want your window)
Hoop and loop self-adhesive discs
Ruler
Window blind (slightly larger than the electroluminescent sheet)
Screwdriver
Hardware that comes with the window blind
Tip
It is not necessary to unplug the electroluminescent sheet when leaving the room. The light remains cool and does not produce heat. It emits a soft light with no glare.
References
Writer Bio
Chelsea Fitzgerald covers topics related to family, health, green living and travel. Before her writing career, she worked in the medical field for 21 years. Fitzgerald studied education at the University of Arkansas and University of Memphis.
Photo Credits
Ryan McVay/Lifesize/Getty Images
Ryan McVay/Lifesize/Getty Images
More Articles