How to Hang Curtains Without Nails
When decorating a room, you want to have accessories that make you feel comfortable and warm. You can hang curtains without making holes in your walls. One way makes the curtain stationery at the top, but you can swag panels back with tiebacks. Another style allows you to still open and close your curtains at the top.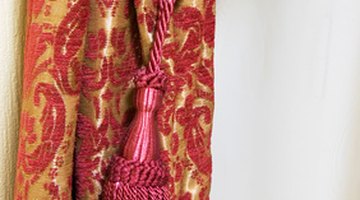 Maintain your walls and trim inside and outside without putting holes in them.
Measure the top of your curtain. Cut your Velcro the same length. Put the sticky side on top of the window trim. Rub to make sure it's stuck tightly to the trim. Sew the other side to the curtain across the top. Stick the curtain Velcro strip to the matching strip of Velcro on the window trim. Rub all the way across the curtain top to secure it. This will make the top of the curtain close permanently. Use tie backs to open the hanging panels and make a swag to the right and left to let the light in. According to Apartment Therapy, you can hang curtains just like this for under sink curtains as well.

You can get away with Velcro for porch and outdoor curtains as well, per Front Porch Ideas and More. You can tension rods in between porch beams or walls, which can be quite far apart, so find tension rods that come with a joiner or two so that you can piece lengths together.

Insert a tension rod into the top of the curtain panels for another method of no nail holes. This allows you to open and close your curtain at the top, on the rod. You can move each panel all the way to the right and left to open them and let the light in.Tighten the adjustable rod to fit the curtains inside of the window frame. This is very important, in that this step holds the rod in place. You must tighten to the point that you can not move the rod. The rubber caps on the ends will stay in place. Also, using this method gives you the choice to have curtains short, within the size of the window frame.
Things You Will Need
Roll of commercial 2" adhesive backed 2-sided Velcro
Needle and thread
Tension rods
Curtains
Curtain panels
Curtain tie backs
Tip
These are great ways to have curtains in a rented apartment with strict rules.
Warning
When you remove the Velcro from the window trim, you may have to touch up the paint.
References
Writer Bio
Anita Billings has been writing since April 2009. Hundreds of her articles appear on eHow, with expertise in piano, decor, landscaping, crafting and travel. Billings received a diploma in business merchandising from King's College in 1974.
Photo Credits
luxury curtain image by Andrejs Pidjass from Fotolia.com
luxury curtain image by Andrejs Pidjass from Fotolia.com
velcro image by Fuzzphoto from Fotolia.com
window curtains image by Aaron Kohr from Fotolia.com
More Articles