How Does a Drapery Puller Work?
If you have draperies that are hung by rings or ties, you may find it difficult to open and close them smoothly. They can be hard to reach, the ties or rings can catch on the rod, and they can end up looking messy and unevenly spaced. If your draperies are on a traverse rod system, the pulleys and cords that operate them can become tangled. A drapery puller, sometimes called a drapery wand, can help in either of these situations.
Definition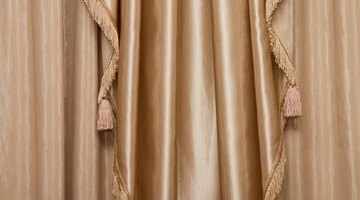 A drapery puller is a long rod that is used to pull or push draperies open or closed. You simply hold one end in your hand, and the other up at the top of the draperies, then simply slide the drapery back and forth along the rod with the puller. Drapery pullers may have hooks, finials or rings so they can attach to a curtain or curtain rod, or they may simply be an unadorned metal, plastic or wooden rod.
Drapery Pullers for Drapes With Ring or Ties
If your draperies are hung by rings or ties, you can choose between two types of pullers. The first is one that has a ring or clip on one end that attaches to the lead tie or ring on your drapes. You may also choose a plain, simple rod to open and close the drapes, and to evenly space out the rings or ties along the rod. Simply store it out of sight when not in use.
Drapery Pullers for Drapes on a Traverse Rod System
If your drapes operate on a traverse rod system, you may be able to replace the cords and pulleys with a more simple solution, a drapery puller. Check with the manufacturer of your system to make sure. You can remove the cords and pulleys, leaving the track, drapery hooks and drapes. Then hang a drapery puller at the leading edge of each drape, and use the puller to slide your drapes open and closed along the track.
References
Writer Bio
Sandra Rousseau has been writing since 1990, covering such topics as home decorating, fashion, health, beauty, gardening and cooking. Her articles appear her hometown newspaper, the "Aledo Community News," and on various websites. Rousseau holds a Bachelor of Arts in journalism and advertising from the University of Texas at Arlington.
Photo Credits
More Articles