Characteristics of Modern Architecture
Modern home architecture officially kicked off in southern California with the introduction of the Case Study House Program in 1945 in "Arts and Architecture" magazine. That program featured new designs of post-war homes designed by architects who embraced modern materials and broke away from traditional home styles.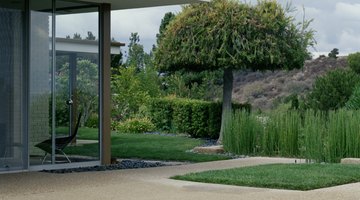 Each of the homes in the program was intended to be reproduced by builders all over the country to fill the post-war housing shortage for returning soldiers.
Legacy of Frank Lloyd Wright
Although the Case Study House Program is considered by many to be the official start of modern home architecture, there is one home in particular built an entire decade before that combined traditional building materials with lines that exemplify modern design. That is the Fallingwater house, designed by Frank Lloyd Wright.
Open Plans With Lots of Glass
Prominent features of modern architecture include open interior floor plans with fewer walls and exterior building materials of glass and steel. Lines of modern architecture are straight and angled rather than curved, gabled and carved.
The Spare Effect
The streamlined, spare lines of modern architecture were designed to reflect modern lifestyles that have become more simplified with modern conveniences.
Connection to Outdoors
Modern architecture almost always incorporates the topography of the land it is built on within the home's design. An excellent example of this is Fallingwater. Other designs seamlessly connect the interior with the exterior through glass walls.
20th-Century Influences
Major influences of modern architecture in the mid-20th century include aviation and space travel, which are seen in aerodynamic lines and bold use of steel.
References
Writer Bio
Susan Miller has been a professional journalist since 1990. She edited two weeklies for a chain of suburban newspapers and has written for the "Indianapolis Star," the "Indianapolis Business Journal" and several magazines, among other publications and websites. Miller studied design, photography and technology at Purdue University and Central Piedmont Community College.
Photo Credits
Chad Baker/Jason Reed/Ryan McVay/Photodisc/Getty Images
Chad Baker/Jason Reed/Ryan McVay/Photodisc/Getty Images
More Articles