How to Hang a Set of 2 Curtains
Using two sets of curtains on a window is very common, and is done mostly when one curtain is a sheer for privacy and the other is a drape for light control and decorative purposes.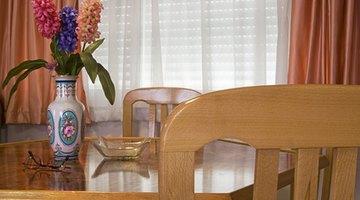 Traditionally, two sets of white traversing rods were the only working system available, and the unattractive rods would have to be covered with a valance of some type. More recently, decorative custom rods have become available with rings in the front to control the drape and a traversing rod hidden behind to control the sheer. With this type of rod there is no need for a valance, because the rods are attractive by themselves.
Things You Will Need
double traversing rod
drapery panel
sheer panel
drapery hooks
electric screw driver
Tip
In order to hang the two set of drapes on the double traversing rod all of the materials needs to be ordered before hand. All rods and drapery panels can either be custom made to fit the window through a designer or design store. The other option is to get ready made panels and sheers and then custom order the rod.
Hanging Two Sets of Curtains on One Rod
Measure the length of the drape panel to determine how high the rod will be mounted. Most rods are mounted between 3 and 6 inches above the window depending on the panel length.

Install the brackets that come with the rod on the wall, using the electric screwdriver.

Place the rod on the brackets and use the string to position the hooks so they all line up in the closed position.

Place the drapery hooks into the sheers header and then hook the sheer onto the back rod.

Take the drapery panel and hook the pins into the header and place the hooks into the eyes of the rings. Open and then close the two panels, making sure that everything lines up properly.
References
Photo Credits
mesa con florero image by ABUELO RAMIRO from Fotolia.com
mesa con florero image by ABUELO RAMIRO from Fotolia.com
More Articles