How to Hold Down an Area Rug Over a Carpet
An area rug can give a drab room a visual pop while adding texture, design and color to your living space. It can also, however, create a problem when placed over a carpet if the area rug starts to slip, buckle, or make ridges, all of which could be hazardous if you're not careful.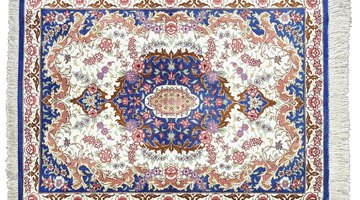 There are ways to hold down an area rug over a carpet to make them safer, so explore your options and find the method that works best in your home.
Position your area rug in such a way that you can place a heavy piece of furniture over the corners, edges, or center of the rug. Items such as a sofa, upholstered chairs, or a heavy coffee table can usually be arranged nicely over the rug without making it look as though you put them there for such a purpose.

Purchase a super-hold rug pad the size of your area rug and place it between the rug and the carpet. A super-hold rug pad is made to grip carpet on both sides of the pad, so while it should keep the area rug from buckling, it should also keep the area rug in the same spot on the carpet.

Apply a line of double-sided carpet tape along all four sides of the area rug following the manufacturer's instructions. Position your area rug where you want it on the carpet before peeling off the final paper layer and pressing the taped rug to the carpet underneath.
Things You Will Need
Heavy furniture (couch, tables, chairs)
Superhold rug pads
Double-sided carpet tape
Tip
If the carpet is new and came rolled, you may want to position a few heavy items, such as large books, over the edges until the material relaxes after about a week.
Warning
If the area your rug is in is a high-traffic location of your house and these methods do not work, you may want to take the rug away to avoid accidents or falls. Try selecting a rubber backed carpet for the area rather than a decorative area rug.
References
"Beautiful Home On a Budget"; Emilie Barnes & Yoli Brogger; 1998
Photo Credits
Hemera Technologies/PhotoObjects.net/Getty Images
Hemera Technologies/PhotoObjects.net/Getty Images
More Articles