How to Get Oval Shaped Curtains for a Front Door
Oval shaped curtains can add charm and a measure of security to the entryway of a home. Sometimes it is important to allow light in and still protect the interior from open viewing. To get oval shaped curtains in standard stores is quite difficult since not enough are sold to warrant keeping them in stock.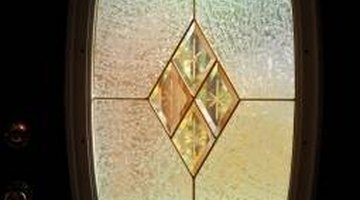 You can have them custom made. However, it is easy and less expensive to custom make them yourself.
Things You Will Need
Fabric of choice (sheer or voile)
Sewing machine
Tape measure for sewing
*opt. sunburst kit
Sewing measuring tape
Fabric Velcro
Iron
New hair scrunchy the same color as the fabric
Rubber bands
Scissors
Gathering tape (sewing type)
Pins
Tip
You can also reduce the amount of gathered fabric in the center, re-size and re-hem the separate piece of fabric and create a rosette center cap in the same fabric. This is like a small 'shower cap' to fit over your collected ends, with a rosette applied to the cap to make it look like a fabric flower. Alternatively, you could purchase a specialty window treatment kit (see Reference).
Warning
Try to leave a little overlap when you gather, to hide where the treatment stops and starts.
Measure your window at the widest point of its width, to determine your fabric width, if your window is twice as long as it is wide. If your window is longer than twice its width, take one-half its length plus four inches for the fabric width. Measure the circumference and add one-third more for your fabric length.

Hem your two short ends and one long end.

Fold the face of your fabric over and iron two inches of fold along the long unhemmed side. Pin your gathering tape along the back side one quarter inch from the ironed edge and sew on the gathering tape. This will take three passes. Do not sew over the cording but between the cording and the gathering tape. This should create a ruffle.

Apply your Velcro around the outer edge of the trim molding on your door's oval window (follow the curve and make small cuts in the Velcro if necessary to ease it around the window shape). (This will be the hard surface side. The Velcro has one side designed for hard surfaces and one side designed for fabrics.) The Velcro can be applied on the inside edge of more recessed windows, but on doors the windows are often flush or with small trims.

Re-measure your circumference based on the outside edge of your Velcro.

Gather your fabric by pulling the cords to the correct length for your Velcro window circumference plus one quarter inch for overlapping of the ends.

Iron your fabric Velcro (it should feel soft) to the gathering ribbon (back side of your fabric).

Install your curtain by starting at the center bottom and pressing the fabric Velcro into the receiving Velcro. Gather the fabric in the center with your hand making sure the curtain is even and use a rubber band to hold it in position against the glass. Tuck the central fabric into a ball shape. Wrap a separate piece of fabric over the top, folding any edges under. Use a color-matching hair scrunchy to tighten your sunburst together. You can adjust this until it looks perfect. This treatment can be adapted to any window shape, and it is easy to remove and launder.
References
Writer Bio
F.R.R. Mallory has been published since 1996, writing books, short stories, articles and essays. She has worked as an architect, restored cars, designed clothing, renovated homes and makes crafts. She is a graduate of the University of California at Berkeley with bachelor's degrees in psychology and English. Her fiction short story "Black Ice" recently won a National Space Society contest.
Photo Credits
brytta istockphoto#7803772
brytta istockphoto#7803772
More Articles